Presidents, Writers And Rockers Mourn And Praise Gabriel García Márquez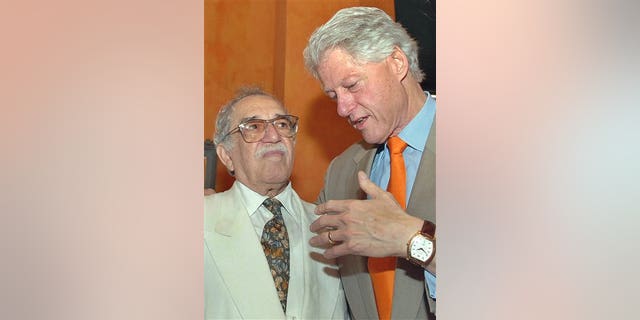 The news of legendary writer Gabriel García Márquez's death on Thursday at his home in Mexico City was met with lament and admiration far and wide.
Novelist Julia Alvarez, author of "In the Time of the Butterflies" and "A Wedding in Haiti," said García Márquez was bigger than life.
"He was in so many ways our literary abuelito, for those of us who felt adrift, in this adopted country and culture," she said to Fox News Latino. He was one of the first authors out there that I could proudly march to the canon-keepers and say, 'We write classics too!'
"Gabo reminded us of all the magic in our Latino culture, in our histories, in our language," Alvarez said. "His work, in translation, also reminded North Americans that there were other Américas in the hemisphere."
Former President Bill Clinton, who became a friend of García Márquez, said in a statement: "I was saddened to learn of the passing of Gabriel García Márquez. From the time I read 'One Hundred Years of Solitude' more than 40 years ago, I was always amazed by his unique gifts of imagination, clarity of thought, and emotional honesty."
"He captured the pain and joy of our common humanity in settings both real and magical," Clinton said. "I was honored to be his friend and to know his great heart and brilliant mind for more than 20 years. My thoughts are with Mercedes and his family, and with his friends and admirers in Colombia and around the world."
Ecuadorean President Rafael Correa said: "Farewell until the victory, dear Gabo."
Peruvian writer Mario Vargas Llosa, also a Nobel laureate, told reporters: "A great writer has died. His work gave wide publicity and prestige to literature. His novels will survive him and will continue to gain readers everywhere. I send my condolences to his family."
Nicaraguan writer Sergio Ramirez Mercado said that García Márquez was a visionary.
"He had the capacity to see stories that many of us have in front of us and don't even notice," he said. "He was unique in that."
Sandra Cisneros, the author of "The House on Mango Street" and "Have You Seen Marie?" told Fox News Latino, "Yesterday, when a Mexican electrician asked me to explain what García Márquez's death meant to me, I said this: 'One of our gods has died.'"
The Bengali-American writer Jhumpa Lahiri said, "I read his 'Collected Stories' so many times that my copy no longer has a cover. He expressed himself as powerfully in three pages as in 300. His invented world was, in the end, both everywhere and nowhere, both bound by its particulars and universal… So many have tried to emulate him, but no one has ever come close."
Francisco Goldman, the Guatemalan-American author of "The Ordinary Seaman," and "The Divine Husband," said: "I learned so much from him at the very age when you are most open to learning, from his writing, of course, but also by certain aspects of the way he led his life."
Colombian rocker Juanes tweeted in Spanish: "The grandest of them all has gone, but his immortal literary works remain. Thank you, Gabriel García Márquez."
Juan Manuel Santos, the president of Colombia, tweeted in Spanish: "A thousand years of solitude and sadness over the death of the preeminent Colombian of all time. Solidarity and condolences to the family."
Former Colombian President Alvaro Uribe Velez tweeted in Spanish: "The master, García Márquez, thank you always, millions of residents of the planet fell in love with our country through the magic of your [literary] lines."
Singer Shakira tweeted: "Your life, dear Gabo, we remember as unique and unrepeatable...It is difficult to say goodbye, because you have given us so much. You shall forever stay with me."
Follow us on twitter.com/foxnewslatino
Like us at facebook.com/foxnewslatino