Pregnant fitness model shamed for flat stomach responds to social media critics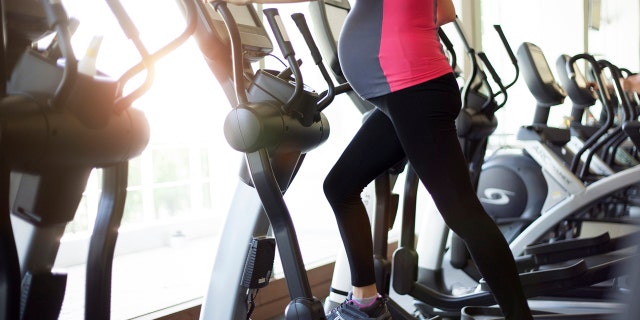 Fitness model, Sarah Stage, took to Instagram last week to show off what she does to stay fit and healthy while pregnant. However, in addition to her impressive fitness routine, Stage took some time to let off steam about the hate she has been receiving for her toned body.
NUDE BLOGGER'S INSTAGRAM DEACTIVATED WITHOUT WARNING, SHE CLAIMS
"As I'm nearing #8months I've wanted to share what's been on my mind. Since I've announced my second pregnancy, I've had certain 'Instagram medical experts' tell me what I should and shouldn't do. And while I find some of the comments hilarious, I choose to only listen to my OBGYN and of course I also listen to MY body," she posted on her Instagram.
Stage, who has posted several photos on social media chronicling her pregnancy journey, has received a lot of flak about her perceived selfishness. Many have said the 33-year-old is harming her baby in her workouts. Other have claimed that she is only interested in her "looks."
"There are also some people who assume that since I am exercising while pregnant, that I'm obsessed with how I 'look' but in fact I'm obsessed with maintaining a healthy lifestyle that will give my baby and myself the best possible quality of life."
FOLLOW US ON FACEBOOK FOR MORE FOX LIFESTYLE NEWS
Stage is used to making headlines for her fit pregnancies. When she was pregnant with her first child, James Hunter – who can be seen running around in the video – Stage posted a baby bump selfie taken ten days before her due date. The photo led to a fury of social media comments from people who couldn't believe how small her stomach was.
This pregnancy has solicited the same outcry. However, the model continues to defend her choices to stay active while she is expecting, stating that she only does what's best for her growing baby.
"If something feels off, I don't do it!" she says. "Clearly, I have greatly reduced the intensity of my workouts and stick to at home exercises from my Fitness Ebook 2-3x a week."
Stage and her message serve as a healthy reminder that not all pregnancies are the same – and with her happy, healthy son bounding around in her video, she shows that she's doing what is right for her body.