Pope Francis Doesn't Condone Marxism But Notes That Some Marxists Are 'Good People'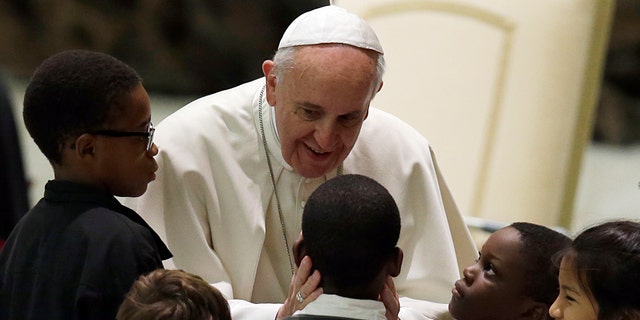 Pope Francis is shrugging off the "Marxist" label that some ultra-conservatives might apply to him because he frets that economic growth doesn't always help the poor.
In an interview with Italian newspaper La Stampa published on Sunday, Francis is quoted as saying: "Marxist ideology is wrong." But the Argentinean pontiff added he has "known many Marxists who were good persons, and that's why I don't feel offended" by the label.
He also mentioned that at a recent public audience at the Vatican he told a mother whose baby was crying but who was ashamed to nurse in the pope's presence: "Please feed him!" The pope he wants to tell all humanity to feed the hungry.
As much as he gives, others want to give to him.
On Monday, the pope received great joy when his life-long favorite soccer team in Argentina, San Lorenzo de Almagro, won the national championship title and dedicated it to him.
According to published reports, representatives of the first division soccer team are traveling to the Vatican on Monday. The delegation includes team president Matias Lammens, coach Juan Antonio Pizzi, vice-president Marcelo Tinelli and several players.
The Pope, an avid San Lorenzo fan, also turns 77 on Tuesday. He received an early birthday cake on Saturday — a surprise from children at the Vatican.
The children presented the treat after the pope visited a Vatican dispensary which provides pediatric care.
Francis blew out the candles, thanked the youngsters for the cake and promised: "I'll tell you later if it's good or not."
At one point, Francis briefly lost his white skull cap to a child he was holding. The pope smiled and put it back on his head.
For more than 90 years, the dispensary on the Vatican grounds has been distributing milk, clothing, diapers, toys and even baby carriages to families in need.
Based on reporting by The Associated Press.
Follow us on twitter.com/foxnewslatino
Like us at facebook.com/foxnewslatino