Oscar de la Renta mourned in his native homeland, government declares day of grieving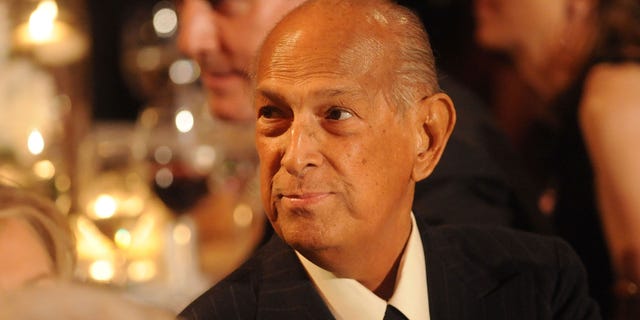 NEWYou can now listen to Fox News articles!
Fashion icon Oscar de la Renta is being mourned in his native Dominican Republic as a son whose glamor raised the profile of a largely poor country.
President Danilo Medina, who said De la Renta "leaves a hole that will be impossible to fill," declared that Oct. 22 will be an official day of mourning to honor the famed designer, according to local press.
The country's national flag will be at half-mast in public and government buildings around the country.
De la Renta, 82, died Monday night in his home in Kent, Connecticut surrounded by friends and family.
Joining the president's decree is the country's tourism sector.
In a statement, Arturo Villanueva, vice president of the Hotel and Tourism Association of the Dominican Republic, said the country is mourning "the irreparable loss of one its most distinguished members that leaves us as a legacy, the example of personal greatness that was not tempted by human vanity and but instead enriched by his dedication to duty, his vocation of service, integrity, social awareness and pride of being Dominican."
While De la Renta called the United States home most of the time, the designer had a house in the exclusive beach resort area of Punta Cana, on the east coast of the country. He served as chairman of the executive board of directors for Grupo Punta Cana.
Along with his extensive support for the country's tourism industry, De la Renta's charitable work included a program that helped the poor gain job skills and income by designing dressed.
He also launched the annual Fashion Week in Santo Domingo, which coincidentally is taking place this week.
In a pre-planned honor, event organizers inaugurated a ballroom at the Hotel Santo Domingo in baring the designer's name.
Before his death, organizers also planned to petition the government to name a street for de la Renta. "It's not just an homage; it's an act of justice," Socrates McKinney, artistic director for the event.
Dominican-born singer Juan Luis Guerra, who in his own right elevated the profile of his native country, paid tribute to the late designer on social media.
"Oscar, we will always remember and be honored by how you elevated our country," he wrote in Spanish. "Thank you for your art, your example and your smile!!"
The Associated Press contributed to this report.
Follow us on twitter.com/foxnewslatino
Like us at facebook.com/foxnewslatino