On Zarela's Mind: Asking for Favors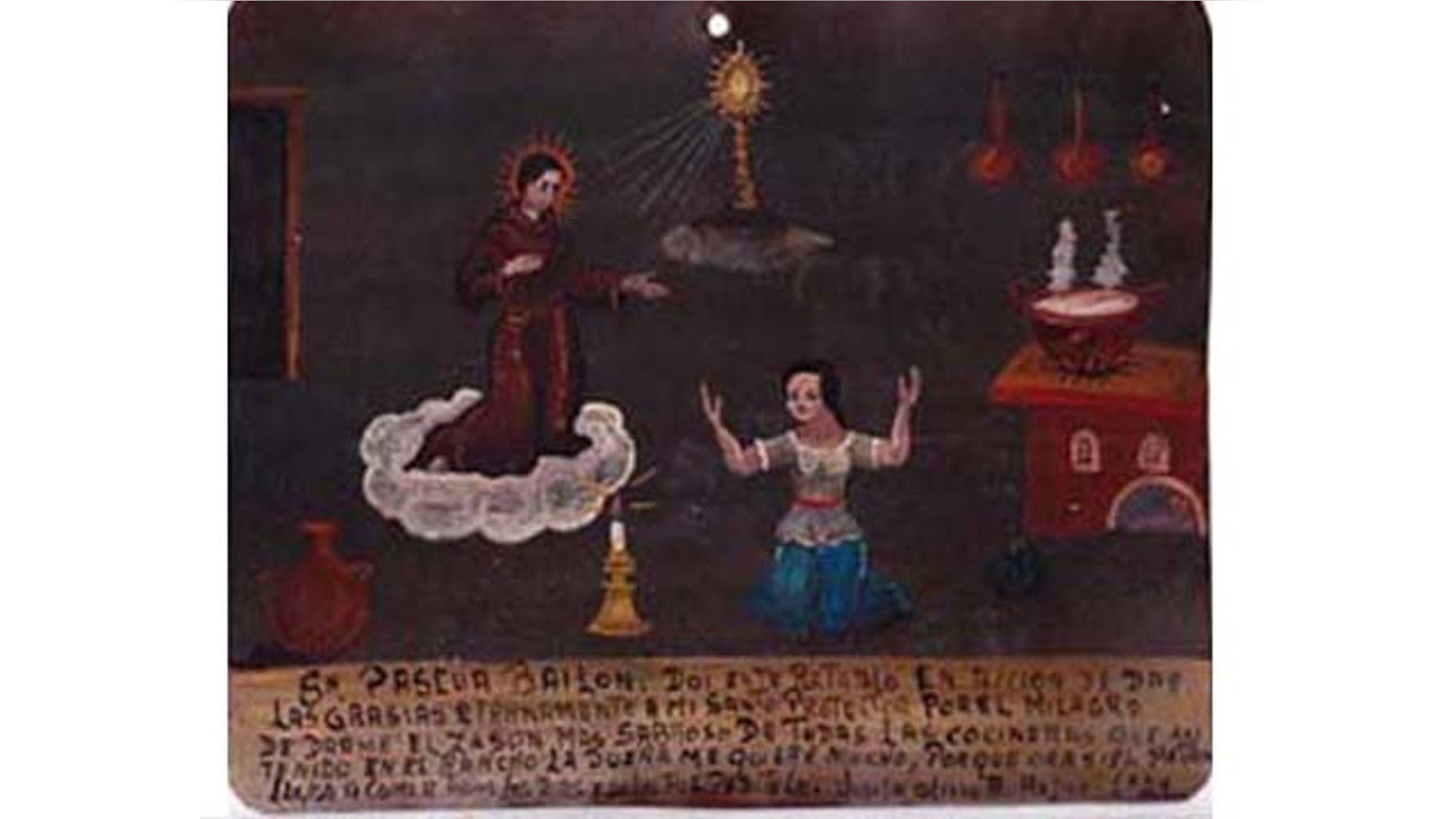 I have a set of questions I ask people as conversation starters. The answers are wildly different and give you a lot of insight into a person. I ask things like: What do you do for fun? What is your most precious memory? But my favorite question is this: What is the best gift you have ever given and what is the best gift you have ever gotten?
One of the best I have ever received is the retablo (or ex-voto) shown here. My friend Norberto Bogard, now publisher of Pie Derecho, a monthly multimedia magazine directed to the New York Latino community, had to bargain and plead with an antiquarian in Puebla until the man finally agreed to sell it. Like all ex-votos, the drawing depicts the saint and illustrates the favor granted, while the legend explains it. The words are perfect for a professional cook like me:
"I thank San Bartolo, patron saint of cooks, for granting me the best talent for seasoning food that any cook has had in this ranch because now the boss comes home for lunch every day and the lady of the house loves me."
This retablo dates from 1934, but there are many contemporary ones too. It is offered at a church or sanctuary to thank the saint for favors granted. In Oaxaca, these petitions are made with a pedimento, a miniature representation of what the asker hopes to get in the coming year. People believe so strongly that their wishes will be granted, that they make everything as realistic as possible so there is no confusion. There will be houses made of sticks and clay, horses and other animals inside a corral, corn and maguey fields with furrows.
Ex-votos can also be used to ask for favors. In the early convents, nuns kept several around to ward of plagues, bring on rain, get food, or protect them from attacks and other dangers. They would bring the tablets out when necessary and parade them around the courtyard.
Sor Juana Ines de la Cruz (1651-1695), Mexico's most famous nun, was the first feminist writer, a magnificent poet, renowned scholar, and a fierce advocate for women's education. Her beautiful face and body adorn many famous retablos. The legends vary and often refer to her many accomplishments, including her cooking skills. She wrote a short but wonderful cookbook and the recipe for multi-layered clemole is my favorite dish of hers. We often use it as a filling for tamales. (You can find the recipe below.)
There is another way retablos are making my dreams come true. As a fundraising effort for Food is Art, a culinary program that I curate and run with my daughter Marissa for The Mexican Cultural Institute of New York, will be exhibiting and auctioning donated retablos. Anyone can donate one. Visit our Facebook page so you and see what we are all about.
Zarela Martinez blogs at Zarela.com. You can also check out her how-to videos on YouTube.
Clemole de Oaxaca
1 pound pork butt
2 chicken legs
2 chicken thighs
½ pound longaniza sausage (available in Latin American grocery stores)
1 tablespoon toasted cilantro seeds
5 cloves
6 black peppercorns
½ teaspoon freshly ground soft-stick cinnamon
6 pasilla chiles, deveined and lightly toasted on a griddle over low heat
4 roasted garlic cloves
3 griddle- roasted tomatoes
2 tablespoons freshly home-rendered lard
3 cups chicken stock
Cook the pork butt in salted water for 20 minute; .add the chicken and cook for another 20 minutes; add the longaniza and cook for 10 minutes more. Drain and reserve the cooking broth.
In a small pan toast the spices over medium low heat until fragrant. Let cool and grind in a molcajete or a coffee grinder. Combine with the chiles, roasted tomato and garlic and thoroughly puree in a blender.
Heat the lard in a heavy medium-size Dutch oven or saucepan and fry the sauce for 10 minutes over medium heat, stirring often. Cut the pork and longaniza into bite-size pieces and add with the chicken pieces and broth to the pan. Cook for 10 minutes longer and serve.
Follow us on twitter.com/foxnewslatino
Like us at facebook.com/foxnewslatino