New York Fashion Week: Carolina Herrera Gets Playful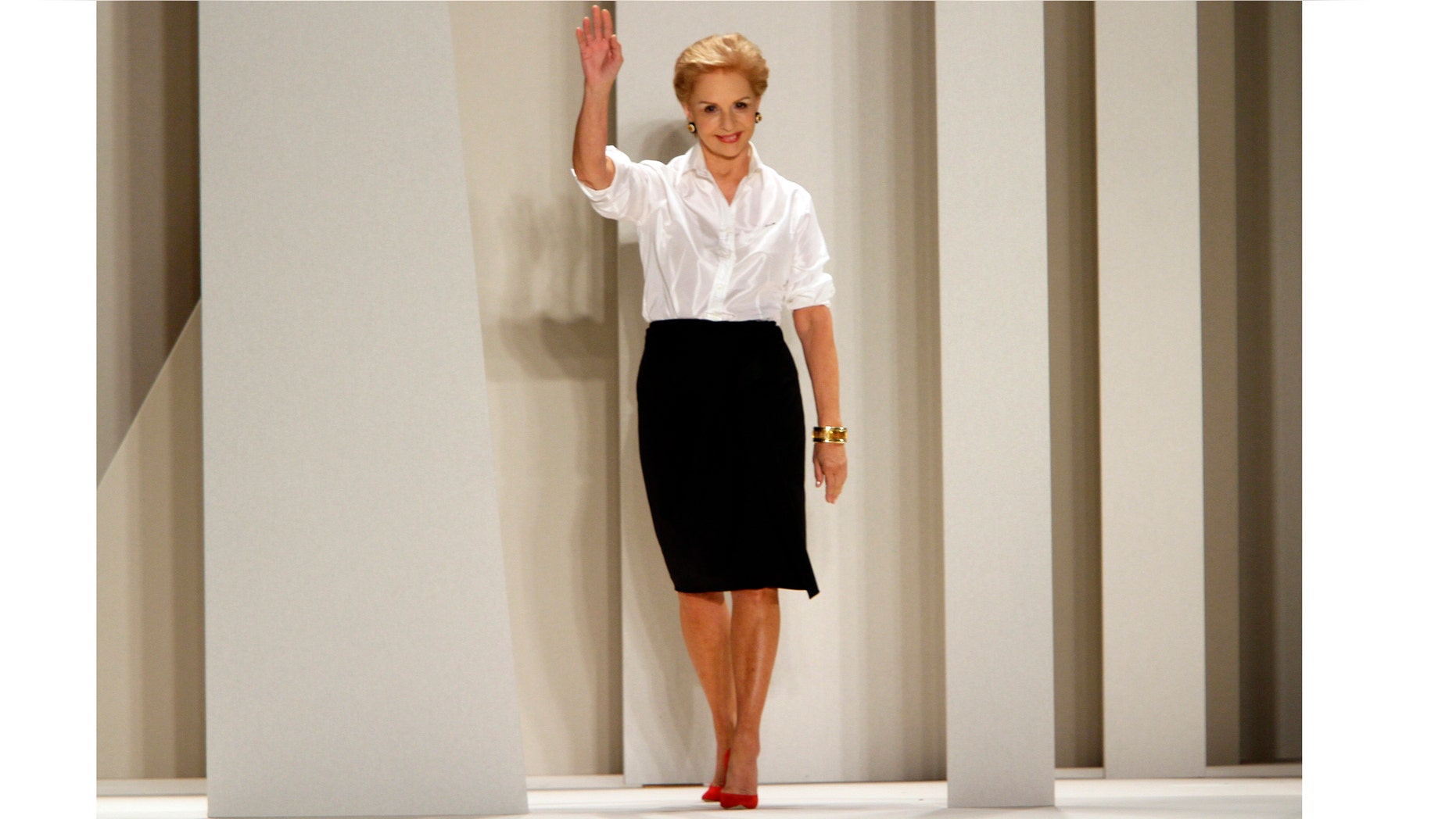 Carolina Herrera, the world-renown Venezuelan fashion designer, is known for always perfectly coifed hair and clothes with not even the slightest of a wrinkle. But this week, she showed off her playful side.
For her spring collection at New York Fashion Week, she embraced a cheerful canary-bird print, used patent leather panels to fake out belts and chose a finale outfit, a beaded top and long folded gazar skirt, both in bright grass green.
Not that she dressed the models at the Mercedes-Benz Fashion Week tents in anything that wasn't polished, chic and thoroughly uptown, but it's like Herrera let her hair down a little.
Her palette, heavy on the yellow and green, with a bit of blue and red, was inspired by vintage Bakelite bangle bracelets.
A shirtdress got oversized pockets, a delicate red cocktail dress was made of seersucker silk, and a grey-beige, one-shoulder evening gown dipped so low on the lower back it was almost scandalous. Someone like Renee Zellweger — who sat on the front row — could pull it off.
Model Veronica Webb did a little "shopping" from her seat, saying an outfit that paired a green colorblocked sweater and off-white pleated pants would be a "workhorse" for her wardrobe, as would a red-and-gray dress with geometric-shaped lace inserts. A yellow gown with caviar beading embroidered on a panel in the front would be Webb's pick for a night on the town.
It's not Herrera's way to make things too fussy, even when there's a lot going on. A black-and-blue gown was as soft and pretty as you'd expect from the designer, even though it was covered in sharp-edge embroidery.
Making things look simple can be one of the hardest things to do, said Herrera backstage before the show. The results are worthwhile, though. It's all in the "wonderful details."
She added, "Fashion has to have details and it's a way of doing them in a very simple way that they look effortless that's what fashion should be: effortless and fun."
Based on reporting by The Associated Press.
Follow us on twitter.com/foxnewslatino
Like us at facebook.com/foxnewslatino