Michigan DJ, Minister Suspend Themselves 100 Feet In Air For Guatemalan Orphans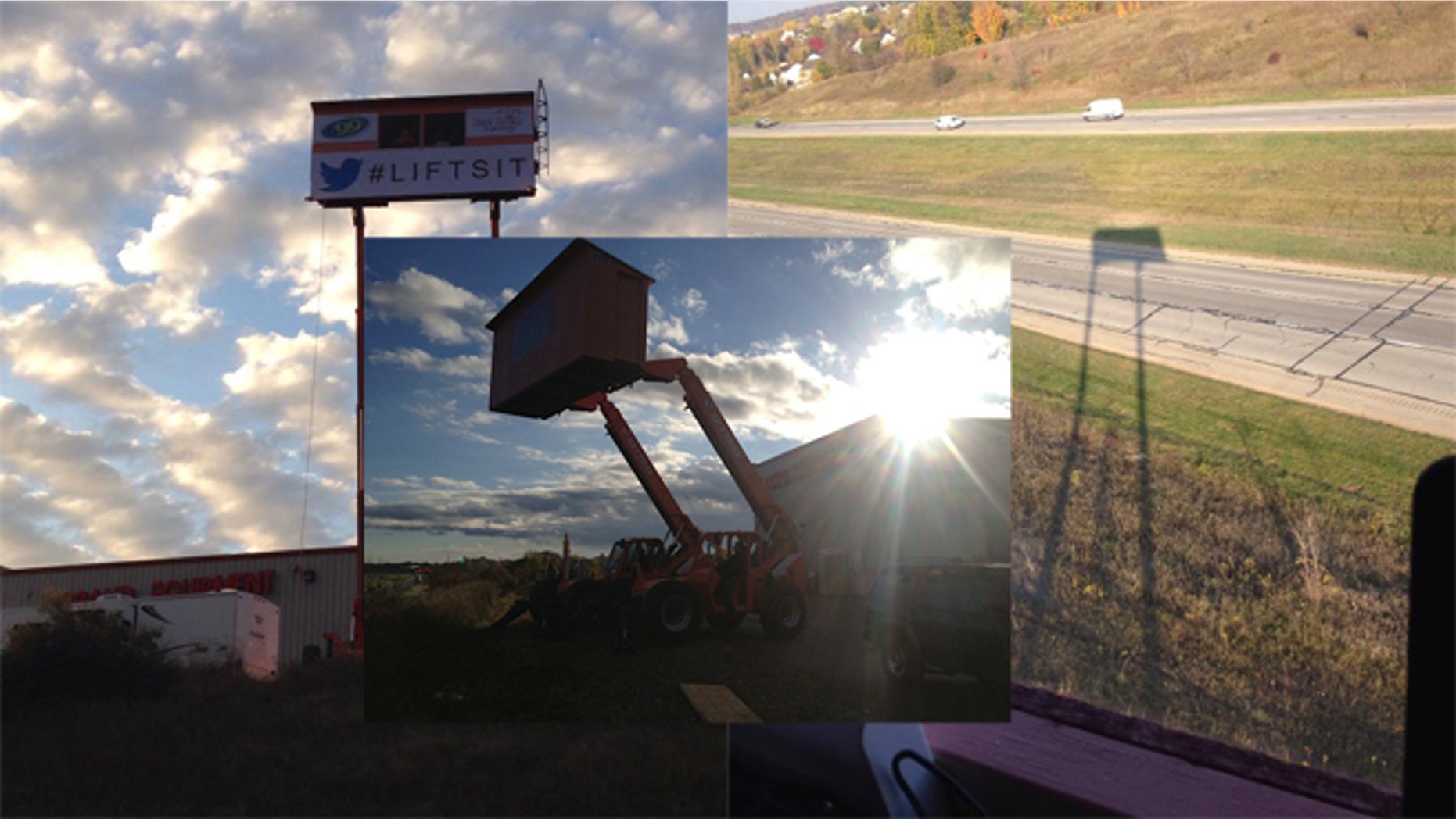 In a tiny, cramped hut suspended over I-196 outside of Kalamazoo, Mich., radio DJ Troy West and missionary Dan Smith endured freezing nighttime temperatures and biting winds for several nights – all in an effort to help orphans living thousands of miles away.
The two men suspended themselves 100 feet in the air over the busy highway in an attempt to raise $65,000 to fund an orphanage that Smith and his Paradise Bound Ministries run in a remote part of northwest Guatemala. After a little more than 36 hours up in the air – broadcasting over a local Christian radio station the entire time – the two Michigan men came down with a full wallet.
"For us to have to suffer up there for just over 36 hours so we can relieve these children of Guatemala of their suffering is absolutely worth it," Smith told Fox New Latino hours after returning to the ground.
The so-called Lift Sit fundraiser for the Open Doors Orphanage that Smith runs was the brainchild of West, a local DJ for the Christian radio station JQ 99.3 who has become a major supporter of the Michigan-based ministry. West got the idea for event while driving by a large hill everyday during his commute along I-196.
"I've known Dan [Smith] for years and have always been a big supporter of what he does," West said. "When I was driving by this hill I thought it would be really cool to have a fundraiser up there."
West and Smith partnered with a local business that provided the two skylifts – or giant forklifts – that hoisted the hut 60 feet in the air. Poised on top of the hill overlooking the highway, the hut stood about 100 to 110 feet above traffic, advertising the fundraiser for the orphanage.
They only come down from the hut once they meet their fundraising target.
Smith and his wife began the orphanage in 1997, one year after the peace accords in Guatemala were signed ending the 36-year-long civil war.
From 1997 to 2008, Guatemala was a hotspot for adoptions to the U.S. - with more than 4,000 babies adopted each year. But that ended in 2007, when the Guatemalan government suspended adoptions by foreigners in 2007 following allegations of fraud and baby theft.
Guatemala's ambassador to the U.S. said last month that the Central American nation recently created a task force to help expedite the pending adoptions of 115 Guatemalan babies; heralding what some hope is an opening up of the adoption process in the country.
For now, Smith's ministry plans to keep working on improving the lives of those Guatemalan children who have lost their parents.
"There are around 370,000 orphans in Guatemala thanks to the civil war, poverty and other factors," Smith said. "The most rewarding thing is seeing the change the children down there and how open they are to our help."
Last year, the first year of the fundraiser, storm-force winds from Lake Michigan about 15 miles away almost forced the two men to abandon the hut. But this year, a brisk chill was the only element they had to contend with.
For West, however, a little bad weather is actually a good thing for their effort.
"The worse the weather, the more money we seem to raise for the orphanage," West said. "If people see us suffering up there, they're more likely to give money to the cause and get us down."