Melania Trump will be the 2nd foreign-born first lady in U.S. history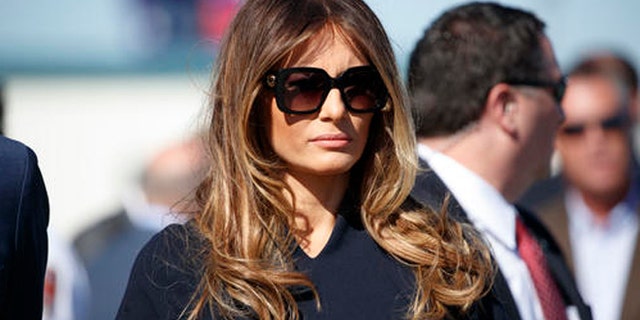 NEWYou can now listen to Fox News articles!
On January 20, 2017, as Donald Trump assumes his role as America's 45th president, his wife Melania will become the second foreign-born first lady in U.S. history.
Born Melanija Knavs, in Sevnica, Slovenia, Mrs. Trump will follow Louisa Adams, wife of John Quincy Adams, who was president from 1825-1829. Adams was born in England.
Mrs. Trump, whose father was a member of the Slovenian communist party, started her professional modeling career at 16. She is 46 years old now.
As immigration issues were at the center of much of Trump's campaign rhetoric, Mrs. Trump's history as an immigrant became a hot button issue as well.
Michael J. Wildes has been the Trump family's go-to attorney for immigration matters.
"I'm an ardent Democrat and I'm very hopeful with Mr. Trump's presidency. I believe that, at its core, the Trump family appreciates the vibrancy immigrants bring to our nation," Wildes told Fox News Latino.
"Who better to understand that than our first lady, who travailed the path that millions have had to travail?" he added.
Wildes handled the recent issues of Mrs. Trump's visa questions, namely the allegations that she violated U.S. immigration laws by participating in a 1995 photo shoot in New York City for the French magazine Max.
A letter from Wildes' law firm released to the public about Mrs. Trump's legal status says that it was impossible for her to have worked in the U.S. in 1995, as she didn't enter the U.S. until Aug. 27, 1996.
Additionally, the letter states, Mrs. Trump did not receive her green card through marriage. In 2000, Mrs. Trump self-sponsored herself for a green card as a model of "extraordinary ability," and on Mar. 19, 2001 she was admitted to the U.S. as a lawful legal resident. She became eligible for citizenship in 2006, after five years of continuous permanent residence.
Nusha Vidmar, who owns a local bar in the town Mrs. Trump grew up, told NBC news that the prospect of a Slovenian first lady was encouraging for the town as it emerged from a period of high unemployment.
"She was one of us … this is a very huge success for one of us, and also for Sevnica, and Slovenia," she told NBC. "I was very proud of her, of her success. For such success you don't need only luck, you must have courage."
Mrs. Trump met Donald Trump in New York at a party in 1998. The two were married at a lavish wedding in 2005. She is his third wife.
On Thursday, while the president-elect visited with President Obama in the White House, Mrs. Trump met with first lady Michelle Obama.