Adriano Espaillat makes history by becoming first Dominican-American in U.S. Congress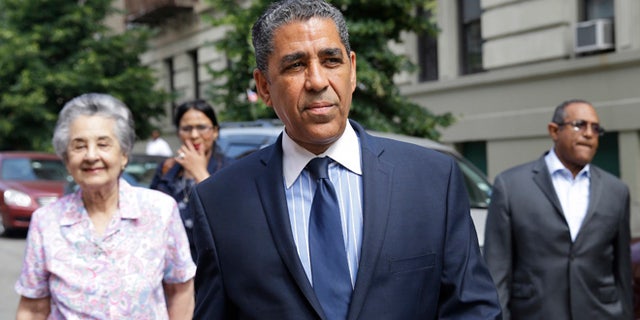 NEWYou can now listen to Fox News articles!
Adriano Espaillat became the first Dominican-American member of the U.S. Congress on Tuesday, overwhelmingly beating his opponent.
The Democrat will represent the 13th District, succeeding long-serving Rep. Charles Rangel, who is retiring.
With 82 percent of precincts reporting, he was up by 82 points according to The New York Times.
The victory marks not only a milestone for Dominican-Americans, but also reflects the demographic change in the district, which includes Harlem and where Latinos became the majority in recent years.
Espaillat faced Republican Tony Evans and Green Party candidate Daniel Vila Rivera.
Espaillat, a 62-year-old state senator whose resume includes the state Assembly, spent years in community work and at one point lived in the country without proper immigration papers.
As an immigrant, Espaillat, who came to the United States at the age of 9 as a tourist in 1964, had seen his rise as a "strong message against the intolerance that's being spewed by the Trumps of the world." He was especially looking forward to seeing how his story could resonate in Congress, especially among those opposed to immigration reform.
"How will they feel knowing that I have the same vote as they have on the floor of Congress?" he said. "I would love to see what the reaction is."
Espaillat's shot at the November general election didn't come easily. He lost two previous primary attempts against Rangel, the "Lion of Harlem," who was first elected in 1970 and is retiring this year.
Changing demographics in recent years helped.
The district is now about 55 percent Hispanic, thanks to the addition of small portions of the Bronx in its covered area. At times, primary contests got heated, with accusations that racial politics were being played. This time around, Espaillat competed against a field that included another Dominican politician, as well as African-American candidates, including one who had Rangel's support.
The Associated Press contributed to this report.
Like us on Facebook
Follow us on Twitter & Instagram