Man slammed by internet for eating Kit Kat 'wrong' proposes to girlfriend with Kit Kat-shaped box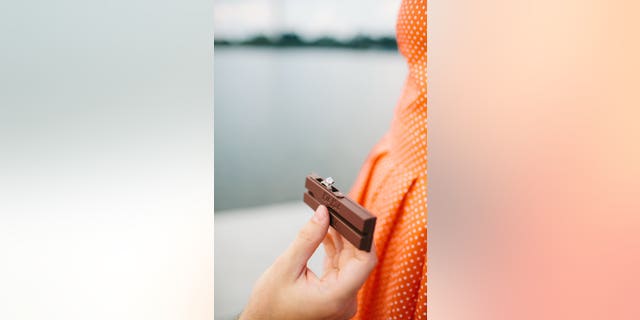 A Washington, DC, man has teamed up with Kit Kat to propose to his girlfriend after a tweet of him eating the chocolate candy went viral.
Last month, Evan Wilt was widely ridiculed on social media for how he eats Kit Kats after his girlfriend, Haley Byrd, shared a picture on Twitter.
MOOSE CRASHES ALASKA COUPLE'S WEDDING, 'OBLIVIOUSLY' GALLOPS THROUGH CEREMONY
People on Twitter demanded Byrd break up with Wilt because of his bizarre Kit Kat-eating method.
However, the chocolate controversy appears to have made the couple stronger. On Fourth of July, Wilt proposed to Byrd at the National Arboretum in Washington D.C. – with special help from Kit Kat.
"Haley is truly one of a kind and I knew I wanted to do something special for the proposal. When Kit Kat reached out, I saw this as an opportunity to create an unforgettable moment. We're both very happy how everything turned out, but we're even more excited to tie the knot in the near future," Wilt said.
Wilt worked with Kit Kat to create the custom ring box, which was 3D printed to look like the classic chocolate bar and magnetic to break apart and reveal a diamond ring inside.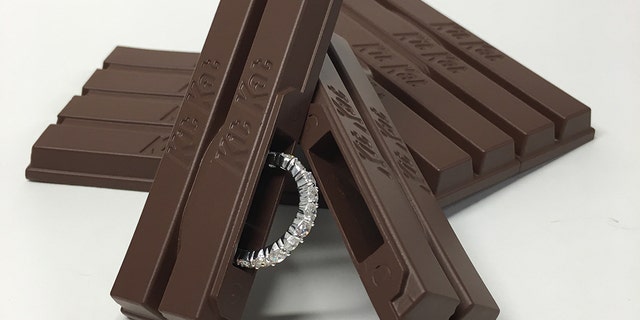 "It's a little surreal to think about all of the kind of people who were working on our engagement behind the scenes," Byrd said after the proposal, which surprised her.
"I had no idea the proposal was coming that day. My mom tricked me into thinking we were going to take family photos at the Jefferson memorial, and when we showed up Evan was there with his whole family. When I saw the Kit Kat box, I just started laughing. It was such a neat experience, and I am beyond grateful that Evan put so much thought into it," Byrd said.
FOLLOW US ON FACEBOOK FOR MORE FOX LIFESTYLE NEWS
The newly engaged couple went back to Wilt's house for a surprise engagement party, which was stocked with a Kit Kat cake provided by Hershey's.
The internet doesn't seem to hold any grudges that Byrd didn't leave him behind after his Kit Kat mishap – the news of their engagement was trending last week, gaining more than 15,000 favorites in one day.