Dallas Mavericks fan gets invited to couple's wedding after viral reaction to proposal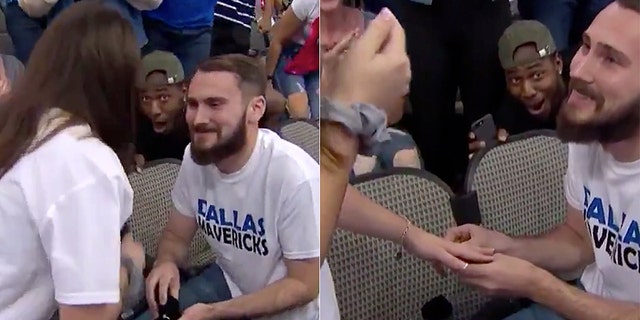 One couple has invited an unexpected guest of honor to their upcoming nuptials — a Dallas Mavericks fan whose reaction to their mid-game marriage proposal went majorly viral on social media.
On Oct. 28, at the end of the third quarter of the Dallas Mavericks and the Utah Jazz' game, Keith Houseworth dropped to one knee to ask his girlfriend, Panda Green, to marry him, Time and Business Insider reported.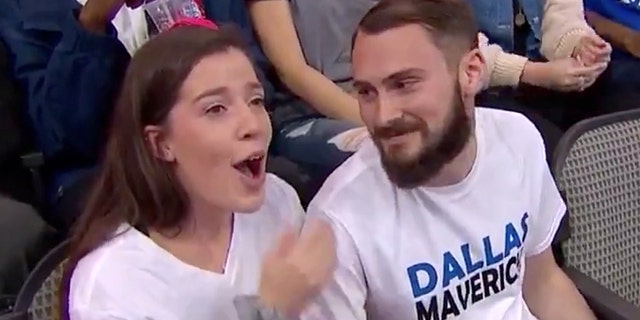 Cameras then zoomed in on Green's face, broadcasting her reaction and subsequent "yes" on the jumbotron. The crowd went wild — especially a man sitting behind them named Jonathan Miller. Scuttling from his seat to be closer to the couple, Miller made hilarious eye contact with the camera and appeared to be both shocked and thrilled to witness the life-changing moment in the strangers' lives.
'PROFESSIONAL MERMAID' SAYS CREEPY 'MERVERTS' ARE THE WORST PART OF THE JOB
Green's ecstatic reaction soon went seriously viral on Twitter, with video footage of the proposal racking up hundreds of thousands of likes across multiple posts.
Though some future newlyweds would surely be upset that a complete stranger stole the show and captured the Internet's heart during their big moment, Green says that she and her fiancé find the story "hilarious," Insider reported.
"Whether people think he stole the show or not is good with us because what matters is that Keith and I are happy that we are engaged and ready to start our new lives together," the bride to be told the outlet. "John and his friends were just as excited as we were!"
FOLLOW US ON FACEBOOK FOR MORE FOX LIFESTYLE NEWS
Better yet, Green and Houseworth have even invited their new pal Miller and his friends to their Nov. 1, 2019 wedding.
As for Miller, he said he never expected his silly reaction to go as far as it did.
"I just wanted to hype up the emotion around it; I understand how important it was to them as well which is why I only made a surprised look," Miller told Insider. "I did not think it was going to go past being on the Jumbotron honestly."
"I wish nothing but a lifetime of happiness for the couple," he added.