LuLaRoe under fire for defending retailer's video mocking disabled people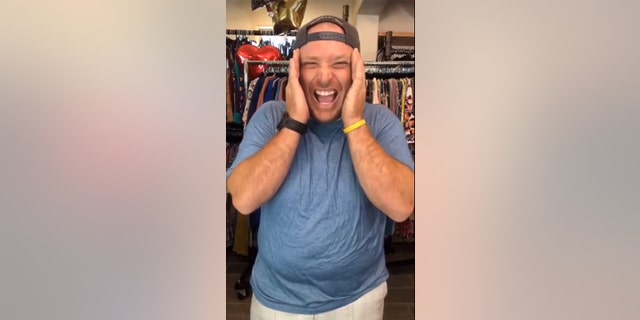 LuLaRoe has defended an independent retailer who mocked people with disabilities on camera, sparking a backlash with the public and severing a partnership with the National Down Syndrome Society.
The multi-level marketing company known for selling women's apparel has come under fire after an independent contractor released a video on YouTube showing him mocking a person with special needs.
In the video, the retailer, identified as Robert Budenbender, was having trouble navigating a Facebook live-stream sale when he appeared on camera saying, "My name is Robert and I am special," in a mocking tone.
Many people on social media who saw the video were disgusted with Budenbender's behavior and called for LuLaRoe to terminate his contract.
WOMAN MAY HAVE FAKED HER OWN DEATH FOR LULAROE DRESS
LuLaRoe has been a strong supporter of people with disabilities in the past, even forming a partnership with the National Down Syndrome Society and donating $1 from each sale to the organization. The company also named one of the designs it sold after co-founder DeAnne Brady's granddaughter Scarlett, who was born with Down syndrome.
Because of this support, many were surprised by LuLaRoe's response to defend the man who made the comments.
In a statement released by the company on Facebook, LuLaRoe said:
"Regrettably, a LuLaRoe Independent Fashion Retailer exhibited unacceptable and insensitive behavior during a live sale, which understandably offended viewers as well as everyone at LuLaRoe. His bad judgment in no way represents the beliefs and character of LuLaRoe or Independent Fashion Retailers."
The fashion retailer said the independent seller posted an apology and contacted NDSS to apologize directly.
"After speaking with the Retailer at great length, we believe his apology is sincere and accepted his assurance that this type of behavior would never happen again. We are also using this unfortunate incident as an opportunity to redouble our sensitivity and tolerance training efforts and policies for Independent Fashion Retailers," the statement continued.
Since LuLaRoe's response, hundreds have taken to social media to call for the boycott of the company. Some sellers who worked with LuLaRoe sent in resignation letters amidst the controversy, Yahoo Lifestyle reports.
NDSS also chose to withdraw from the partnership with the company.
In a posted statement, the chairman Gordon Spoor and Sara Hart Weir, president and CEO of the National Down Syndrome Society said, "Within the last 24 hours, it has come to the attention of the National Down Syndrome Society that an online video by a LuLaRoe independent retailer, which mocks a person with a disability, was posted on YouTube. This video is unacceptable and further perpetuates the stigmas we work to fight and end each and every day at NDSS."
"While we appreciate the apology from this individual and the previous support from LuLaRoe, we must uphold our mission statement, and end our partnership and any further programming with LuLaRoe immediately," the statement concluded.
FOLLOW US ON FACEBOOK FOR MORE FOX LIFESTYLE NEWS
LuLaRoe called the partnership ending unfortunate.
"Unfortunately, NDSS leadership is unwilling to accept the Retailer's apology and has informed us that unless we terminate his contract with LuLaRoe, the organization will no longer associate with us. We do not believe the most productive response to his actions, which he has fully apologized for, is to close his business and threaten his ability to provide for his family," LuLaRoe said.
While many have called LuLaRoe's actions "disgraceful," others have been supportive of the company, saying the man has apologized and is "only human."
Budenbender and his wife and selling partner, Taya, recorded an apology video, alongside Taya's sister, who has Down syndrome. In the video, Budenbender said he has "no excuse" for his behavior and says his actions were "offensive" and do not describe his true feelings, Yahoo Lifestyle reported.
LuLaRoe has faced major backlash before. In 2017, it was accused of being an illegal pyramid scheme and misleading people about its bonus system. Other lawsuits have been filed against the company for selling defective merchandise.