Latino Neighborhoods: El Barrio, Or Spanish Harlem, Still Standing Strong In New York City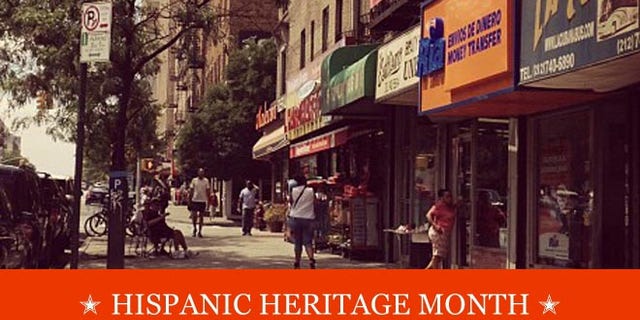 NEWYou can now listen to Fox News articles!
New York City's Spanish Harlem, otherwise known as El Barrio and East Harlem, is the cultural heart of the American Puerto Rican community. Boricuas in the neighborhood cultivated an arts scene and developed a vibrant street life despite the violence that first greeted them in the early 1900s, followed by crime waves waxed and waned throughout the years.
Those formidable challenges were withstood, but a relatively new threat is slowly unraveling the community: real estate.
In a city like New York, with limited space and high demand, neighborhoods can change quickly and East Harlem is no different. So-called Nuyoricans have been leaving El Barrio for affordable housing in areas such as the Bronx and Florida. Of the Latinos who remain, 24 percent are Puerto Rican, according to data from the U.S. Census Bureau. Around 2000, Boricuas made up 30 percent of the Latinos in their neighborhood and in 1990, nearly 40 percent.
With Puerto Ricans slowly leaving, other Latino groups – along with Asians- are now calling the area home. The number of Dominicans has doubled from 4 percent in 2000 to about 8 percent today.
As for Mexican immigrants, they have carved out a space for themselves with grocery stores, panaderias and taquerias in an area known as "Little Mexico." They conform have conformed a steady 8 percent of the population since 2000.
Real estate, ever more expensive in all of Manhattan, may be what's driving El Barrio residents out today, but at one point it was actually what drove them in.
The neighborhood, which is in the northern tip of Manhattan, began as a farming community in the 1600s. By the 1800s, it evolved into a heavily German and Irish neighborhood. When an elevated train connected the area to the rest of the city in the late 1800s, recent Italian immigrants who wanted out of downtown's crowded Little Italy downtown quickly took over.
Puerto Ricans began arriving around the time of World War I, and neighbors were far from welcoming. During a heat wave in July 1926, when residents escaped stifling apartments and took to the streets to cool off, tensions that had been mounting started to escalate.
New Puerto Rican immigrants were at odds with older, more established groups. For weeks, vendor carts were vandalized and bottles thrown as a neighborhood ungracefully struggled to adapt to their new neighbors.
The violence culminated one night when police intercepted a band of Puerto Rican youth who police had heard were trying to incite a riot, according to archived news reports. Those stories intimated that, armed with sticks, three young men who were apprehended along with about 25 others were going to retaliate for earlier acts of violence. It took four police precincts to break the swarm of thousands who flocked to the area.
But if some neighbors didn't warm to the newcomers, others did. Sounds from African-American and Cubans musicians in neighboring Harlem melted with the rhythms and styles of East Harlem.
Simon Jou, a Cuban, owned the bakery La Moderna on the border of East Harlem and Harlem. He imported Afro-Cuban instruments and had a space where skilled musicians played and eager young ones, like Tito Puente, got started.
Latino musicians influenced by Harlem's jazz scene and El Barrio's embrace of music created a fertile ground for inspiration. The neighborhood is credited with being the birthplace of salsa and musicians such as Tito Puente, Frank Grillo and Celia Cruz, who carried that soulful and quick, percussion-laden sound out of the densely packed neighborhood to the rest of the world.
Residents not only brought with them music; they brought too elements of their Puerto Rican upbringing. They turned rat-ridden lots into community gardens and casitas that feel like a paradise rather than a sliver of an inner city. They played stickball in the street and dominoes on the corners, morphing utilitarian city sidewalks into lively outdoor plazas.
Now, that street life is dwindling. Rundown tenements are being exchanged for glassy high rises with doormen and mega entertainment centers. And rents are so so high.
Marta Moreno Vega, president of the Caribbean Cultural Center African Diaspora Institute was born and raised in East Harlem, on 102nd Street between 1st and 2nd Avenues. She most recently lived in the Bronx and is considering a move back to her childhood neighborhood, but renting an apartment there will cost her as much as her mortgage.
"Here you have high-income people [living] across the street from people who are struggling to survive," she said of the many projects that dot the neighborhood. "It's the tale of two cities and you see it everywhere."
La Marqueta, a community cornerstone full of stalls where you can find traditional Puerto Rican foods and medicine, was once the only place to find plantains. (Now you can find them in many of the higher end grocery stores, such as Whole Foods, that are popping up nearby.) Moreno Vega recalls her mother picking up food from bodegas during the week; the shopkeeper would keep her name in a black book until payday, when she would settle the debt.
Stores that can work with a disenfranchised community on that level can no longer survive there. And neither can the families that rely on them.
But not all is lost. Activism, which has long been as integral to East Harlem as the culture, is still going strong. Numerous civic groups are fighting on behalf of the residents, some to keep local businesses going, others to retain affordable housing stock.
Juan Haro, an organizer for the group Movement for Justice in El Barrio has claimed members of the group have had success retaining rent-stabilized housing despite landlords eager to push them out and command higher rents.
"In our experience it has been tenants that come together to organize. These are committed folks who have come together," he said, adding they have a deep desire to stay in the neighborhood that they love.
"In so many cases we've been able to succeed and that's hope. That's hopeful," he added.
Not only are residents fighting for their homes, there is an active movement to preserve cultural elements. Art institutions born out of the community, like El Museo del Barrio, foster up-and-coming artists. The Caribbean Cultural Center will move into a landmarked firehouse in El Barrio that was lost to budget cuts -- among other programs that encourage artists and activists, they will have an exhibition and online app called Mi Querido Barrio to help residents document memories, murals and landmarks that endeared the neighborhood to so many.
"It's exciting to have people telling stories but at the same time it's sad because what replaces it?" Moreno Vega asked. "Are you talking about something that is going to be fading or something that you are going to energize and give life to and it expands?"