Latino Kids Not Catching Up Under Common Core Standards, Early Testing Suggests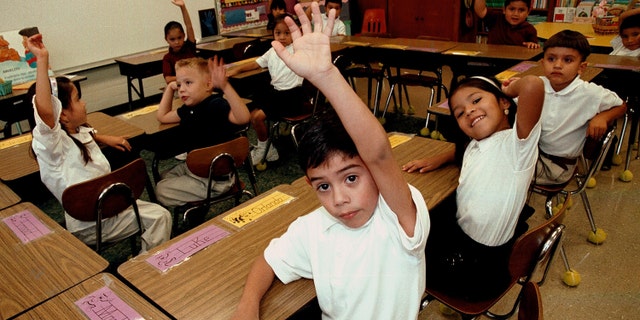 NEWYou can now listen to Fox News articles!
As the new school year ramps up across the country, data from the only two states offering Common Core testing is beginning to come in, and the results indicate that Latinos still aren't scoring highly.
Latinos lag behind Asian and white students in New York, two years into the state's rollout of the Common Core State Standards, according to test results released this month. Kentucky's results for the 2013-2014 school year are expected in the fall, but for the last two years there has been a consistent gap between ethnicities.
The Common Core State Standards are a set of learning criteria that states have adopted. The standardized, end-of-year tests for which the results are being released measure mastery of those standards.
Proponents of the reforms say the uniform goals for students across the country would require all schools, even those that perform poorly and have a largely underserved population, to increase their students' performance. This will eventually result in higher scores for all.
Critics aren't so sure. Impoverished students historically score poorly on standardized tests and the reasons may be so endemic to the system that changing academic learning markers may not be sufficient to improve results. Critics challenge that groups, including Latinos, aren't poised to do well if other issues aren't also addressed.
"The [Common Core] standards have increased the achievement gap," Diane Ravitch, an education historian and public school activist, told Fox News Latino in an email. "Impossible to know what effect they will have in future but standards alone don't raise achievement. Neither does testing."
Latinos are underperforming in the tests because some of them are learning English. Others are low-income and attend schools with limited resources, experts say.
In New York state, about 36 percent of the students were considered proficient in math and 31 percent in English. About 23 percent of Hispanics proved proficient in math, and about 19 percent in English. That is a slight increase, but Latinos are still significantly underscoring compared to the overall population.
In New York City, Hispanics make up nearly 40 percent of the entire student body. The English scores rose to about 18 percent from about 17 percent. The math scores jumped to 23 percent from nearly 19 percent.
A spokesman for the city's Department of Education acknowledged the achievement gap and said the city has created a Department of English Language Learners and Student Support to help close it.
Kentucky, a forerunner in the usage of the Common Core standards and testing, will release its scores from last school year in the fall. The Hispanic student population is scant in that state – barely 5 percent – but Latinos lag significantly behind the general population. The state set an ambitious goal to double proficiency among groups that include Hispanics by 2017.
"Kentucky, like many states, is concerned about the achievement gap for Hispanic students as well as other groups of students, including minorities, English language learners, students with learning disabilities and students who receive free- and reduced-price lunch," said Kentucky Department of Education spokeswoman Nancy Rodriguez.
It is too early to judge the standards, caution officials from the National Council of La Raza (NCLR), an advocacy group that is promoting the Common Core Standards and has received funding from the Gates Foundation, which has also funded many aspects of Common Core.
"Our support for the Common Core has not wavered," said Leticia Bustillos, director of education policy for NCLR. She expressed concern at Latino performance and said that the Common Core Standards are just one issue of many that need to be addressed to ensure educational success.
But the standards are a huge step forward, Bustillos said. By inserting higher learning objectives for all it may reverse practices that have limited the resources that go toward schools in low-income communities.
Critics of the current reform doubt that the achievement gap will close significantly, especially if the focus remains on testing.
"Historically, one of the reasons we've had an achievement gap is that we use performance-based assessments based on standardized tests," said Alan Aja, deputy chair of the Department of Puerto Rican and Latino Studies at CUNY Brooklyn.
Aja says there are underlying stereotypes that taint instructors and administrators and that is considered one reason low-income kids perform poorly.
"It's a stigma that affects performance," he said. "'I've been told all my life I'm going to fail – therefore, I'm not going to do well.'"
A lot has changed in the nearly 70 years since Mendez v. Westminister, in which Mexican-American fathers brought a lawsuit against a city in Southern California alleging that their children were denied access to local schools and were sent instead to inferior schools reserved for Mexicans. But the achievement gap stubbornly remains.
While the tests known as National Assessment of Educational Progress have shown that from 1992 to 2009 scores for Latinos in reading and math in fourth and eighth grade have improved, white children have also made gains, leaving the gap wide.
Sonia Murrow, a professor of education at CUNY Brooklyn, says that challenges for some disenfranchised students run deeper than tests and curricula.
"We have to be really, really careful to acknowledge that a set of standards are not necessarily going to be the thing that's going to fix the equity issue," she said. "The implementation is varied and there are so many other factors contributing to disparity. The standards are not the thing that are going to solve public education and inequity."
Follow us on twitter.com/foxnewslatino
Like us at facebook.com/foxnewslatino