Last Surviving Sister Who Inspired Julia Alvarez's 'In The Time Of The Butterflies,' Dede Mirabal, Has Died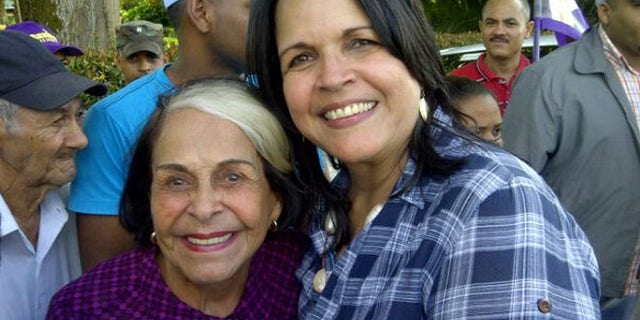 The last surviving sister that inspired Julia Alvarez's award-winning novel "In the Time of the Butterflies" has passed away.
Belgica Adela Mirabal died on Saturday, Feb. 1 of pulmonary complications at a hospital in Santo Domingo, Dominican Republic. She was 88.
"Doña Dedé," as she was affectionately known, was the last surviving of four sisters known as the butterflies, who fought to overthrow one of the most ruthless dictators in Latin America and the Caribbean, Rafael Leonidas Trujillo.
On Nov. 25, 1960, three of the four Mirabal sisters were killed by Trujillo's men, setting up an uproar in the country that ultimately led to the dictator's assassination in May 30, 1961.
The story of the Mirabal sisters has been told numerous times, thanks to Doña Dedé's resilience and dedication to sharing her sisters' legacy.
The most notable depiction of their story came from the pen of Dominican American author Julia Alvarez in her 1994 best-selling novel "In the Time of the Butterflies."
Fox News Latino reached out to Alvarez, and while she respectfully declined, the author-in-residence at Middlebury College published a letter on her website talking about Doña Dedé.
"For over fifty-three years she survived them, living to see them become international symbols of resistance and human rights. When asked by inquiring schoolchildren, 'Why didn't they kill you, too?' (she said she) believed she had been spared so that she could tell the story of what had happened to her sisters. It was her calling and responsibility to keep the spirit of what was best in them alive in herself and in all of us," Alvarez writes.
She continued: "It was as if each day of her life she set out to answer that question."
For over half a century, Dedé served her country and the world with a heroism different from that of her sisters, but heroism, nevertheless: a heroism just as difficult to maintain, requiring hope and courage, amazing resilience and discipline: the heroism of daily acts of clarity and kindness, of courage and compassion," Alvarez continues.
"Day after day, Dedé made us believe in the better angels of our nature; she inspired us. With gradual steps, with her lively and entertaining personality, so we hardly noticed the hard work and persistence it took, she led us out of that dark dictatorship era and forward, year after year, into the still tentative dawn of a new democracy."
Doña Dedé was born on Feb. 29, 1925 to a middle-class family in the small province of Salcedo, in northern Dominican Republic. She was the second of four sisters and the only one to not attend college, taking instead a more traditional homemaker role.
She married and had three children, one of which is Jaime David Fernandez, the current Minister for Environment and Natural Resources, and former vice president of the Dominican Republic.
Following her sisters' death she became a mother to her six nieces and nephews and traveled the world telling their story.
In 1994, she founded the Mirabal Sisters Museum in her native city of Ojo de Agua – now a major tourist attraction.
In 2009, Doña Dedé put her family's story onto paper and published "Vivas en su Jardín" ("Alive in Their Garden"), giving further details into who her sisters were and what they did.
Alvarez's novel, aside from inspiring many of those who read it, was also the basis for the 2011 film of the same name, starring Salma Hayek, Edward James Olmos, and Marc Anthony. In 2010, Michelle Rodriguez starred in "Tropico de Sangre," another film depicting their story.
Most notably, the sisters received recognition from the United Nations General Assembly in 1999, which designated November 25 as the International Day for the Elimination of Violence Against Women.
"We no longer have that beloved person to embody those precious qualities which drew us to her side. What will become of the Butterflies?" Alvarez wrote on her website. "All that Dedé represented – her bright lively spirit, her sense of service, her deep compassion and integrity, her generosity and kindness – dies with her, unless we keep those values alive in the way we live our lives."
She concluded: "Dedé Mirabal has died, but she left a pair of wings inside the hearts of everyone whose lives she touched."
Follow us on twitter.com/foxnewslatino
Like us at facebook.com/foxnewslatino