J.Crew comes under fire for selling feminist T-shirt for young boys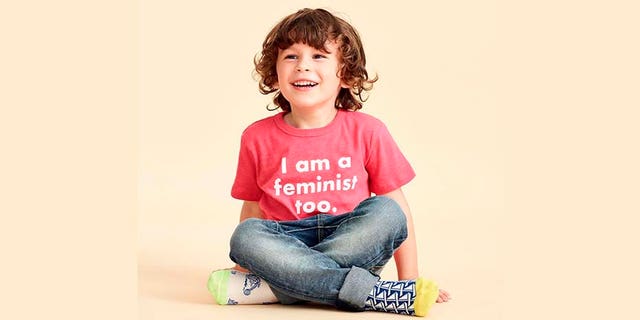 NEWYou can now listen to Fox News articles!
A popular retailer has come under fire after sharing a photo to Instagram featuring a young boy in a pink T-shirt emblazoned with the words "I am a feminist too."
J.Crew posted a photo on Friday that featured a young male model in the pink shirt. The post, which received in excess of 15,000 likes, was shared with a caption: "Start 'em young."
The pictured spark a heated debate in the comments section, with most of the comments criticizing the clothing brand for injecting itself in politics.
"I agree with quality, but I don't need a clothing brand to teach my kids anything – whether it's something I agree or disagree with," one user said.
"Unfollow," another added.
"Unfollowing. Just sell clothes, @jcrew, not political agendas," was another person's comment.
Other users accused J.Crew of not taking a real stance, but rather tapping a hot-button political issue in the pursuit of profit.
One commenter's criticism: "Supporting something for real and pretending to, to market to a larger audience are two very different things."
Even those that were in favor of the shirt were disappointed in the company's decision to use a child to make political statement.
"Keep children out of it. They are too young to understand," one user commented. "Yay for them. Political graphic tees for kids are still not cute," another said.
The controversial shirt has already sold out in some sizes. On the website, under the item's details, was the following statement: "Proud to be creating a legacy of feminists. We believe in teaching boys, from an early age, about the importance of gender equality and respecting the physical and emotional boundaries of girls. Prinkshop is proud to partner with J Crew on this limited edition capsule collection that celebrates Moms, Women, and the empowerment of Girls around the world."
Prinkshop is a clothing brand that creates "wear-what-you-care-about" clothing that gives people "a voice" and helps them "to create change in the world around them," according to the company website.
J.Crew did not immediately return Fox News' request for comment.