It's a Bird, It's a Plane…It's Comic Book Artist José Luís García-López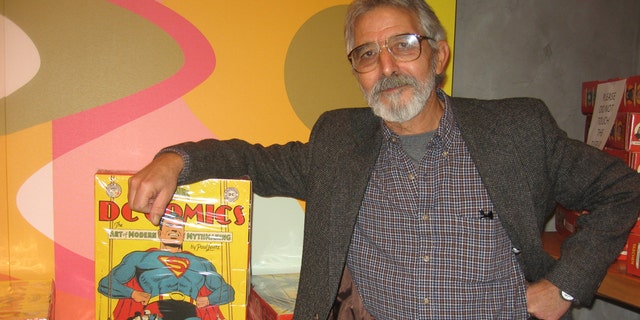 Comic books are as American as apple pie. Generations have lost themselves in their pages, following a Who's Who of heroes tasked with saving humanity—Superman, say, or Batman or Wonder Woman—as they battled ruthless villains such as Deathstroke, Riddler and Doomsday. And few artists have had as much of an influence on this colorful world as José Luís García-López, an immigrant who came to the United States from Argentina in the 1970s, joined DC Comics, and ended up helping define this most American of art forms.
At a release party for "75 Years of DC Comics: The Art of Modern Mythmaking," by Paul Levitz, a book that highlights the entire history of DC comics, García-López spoke with Fox News Latino outside – cigarette in hand.
José Luis García-López was born in Spain in 1948, but his family moved to Argentina when he was just five years old. It was there that he fell in love with comic books.
"I learned to read with comic books, first with Donald Duck, and it was like an addiction. I kept reading every day," he says. "Besides, my cousin was 20 years older than me and he would draw pictures of pretty girls on paper. Every time I saw him, I would ask him to draw me those faces again and again."
Inspired, García-López started working for small comic book companies in Buenos Aires at the tender age of 13. He worked steadily but, with no schooling, he says he wasn't successful because he just "wasn't good enough."
"It is very difficult to do comics," he explains. "You have to know very good anatomy, know how to build a building, and have actor/director talents, because you are going to move characters on a page like actors in a dramatic way or in a funny way. You have to do a lot of things to get people interested in the stories."
In 1974, García-López moved to New York City looking for better opportunities. Through a recommendation, he landed a job at DC Comics. It was a moment that not only changed his life, but would also change DC Comics forever.
Comics have traditionally been drawn by the 'penciler' and then set in ink by an 'inker' using a pen or brush (or, nowadays, digitally). García-López's first job at DC was inking a Clark Kent story. After that, he worked as both an inker and a penciler on a wide array of titles, including Batman vs. Hulk, Deadman, Jonah Hex, and Superman.
"Jose's line is beautiful -- elegant, descriptive, and refined -- with nothing more than exactly what is needed to define and reveal his characters," wrote Jeanette Kahn, a former president and editor-in-chief of DC Comics. "Jose's interpretations of the DC heroes are universal yet somehow uniquely his."
In the early 1980s, García-López was tasked with re-drawing—and therefore recreating—the identities of a legendary cast of DC superheroes including Batman, Superman and Wonder Woman. He drew hundreds of pages resulting in the company's first "Style Guide," a reference bible that featured all of the major heroes in different poses. These are the images still seen on lunch boxes, T-shirts and posters all over the world.
"He literally created the universal style. A lot of people see our superheroes and don't realize they are looking at Jose's artwork," says Steve Korte, editor of "75 Years of DC Comics."
García-López says he enjoys working with the established DC cast—Batman is a favorite—but prefers work in which he can create the characters from scratch, such as the mini-series Cinder and Ashe. Readers and critics seem to like it, too: The 1990 sci-fi series, Twilight, which he created with writer Howard Chaykin, was nominated for an Eisner Award, the comic book equivalent of the Oscars.
For his success, García-López credits artists prior to his own time, such as famed writer and artist Alberto Breccia from Argentina. He also believes Hispanics from all over the world are an increasing force in the comic book industry, providing "incredible talents."
"That is the great thing about this country," he says. "If you are good at what you're doing, they are going to take you."
Follow us on twitter.com/foxnewslatino
Like us at facebook.com/foxnewslatino