In Botched Restoration Project, Jesus Christ Becomes Disfigured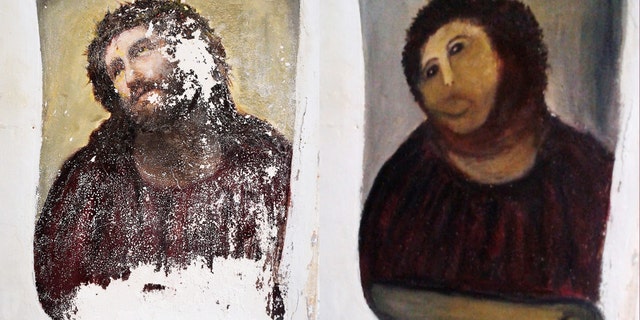 Madrid – Moisture in a Spanish church damaged a 20th-century painting so badly that a quarter of the artwork had chipped off.
So an 80-year-old parishioner had the best of intentions: to restore the fresco of Jesus Christ, completed in 1930, to its former glory.
But what ended up happening to the "Ecce Homo (Behold the Man) painting became a national uproar, and an international embarrassment.
Celia Giménez' retouched version of fresco of Christ wearing a crown of thorns ended up looking like a disfigured, overweight she-man with a quadruple chin and no beard.
Juan Maria Ojeda, an official in Borja town, where the Misericordia church is located, said no one realized how badly disfigured the painting was until Gimenez rang town hall to say what she had done. Town officials claim Giménez undertook the project on her own and are considering legal action against her.
Giménez claims the project had the approval of the local clergy and she did not do it on her own.
"The priest knew it," she told Spanish television, according to the New York Times. "I've never tried to do anything hidden."
The fresco is of the genre known as "Ecce Homo" style ("Behold the Man"). But on Thursday some Twitter users were dubbing it "Ecce Mono" ("Behold the Monkey").
Follow us on twitter.com/foxnewslatino
Like us at facebook.com/foxnewslatino