Hurricane Sandy: Surfers Take Advantage of Sandy's Massive Waves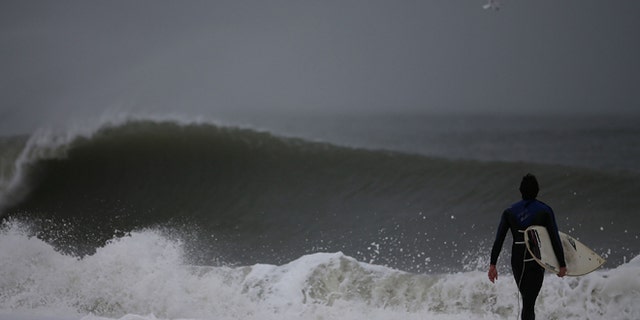 The water was a steely blue as massive waves crashed along the shore, forming violent barrels and slabs that rolled in through the chaotic, storm-tossed sea.
With the memory of Hurricane Sandy still fresh in people's minds and a long recovery process only just beginning, these images churn up to many people memories of fear and devastation. To others, however, a raging, surf-heavy Atlantic Ocean is pure stoke.
As most people are busy cleaning up and assessing the damage left by Sandy, surfers, kitesurfers, windsurfers and even some sailors are taking advantage of the heavy seas to get their adrenaline fix.
From South Florida to New York's Rockaway Beach, surfers grabbed their boards and wetsuits – both before and after the storm – to rip it up on waves that were anywhere between 5 feet high to almost double overhead.
Florida's Atlantic Coast was mostly spared from Sandy's wrath, so southern surfers were able to enjoy the aftereffects of the storm, i.e. huge waves. In Florida's Palm Beach, pro surfers Kelly Slater, Shea Lopez and others used jet skis to haul themselves into the 15-foot surf at a spot called Pumphouse.
The scary thing about that wave is it breaks right in front of a jetty...Then you get pushed into one of the deepest inlets on the coast. There were big fish and bigger sharks all around us.
Known as tow-in surfing and developed in the Hawaiian Islands in the mid-1990s as a way to surf waves that were too big to paddle into, surfers grab on to a tow-line attached to the back of a jet ski or other form of personal watercraft and are literally towed at high speed into a massive wave.
Tow-in surfing has become popular in big wave surf spots such as Maverick's in Northern California, Jaws in Hawaii and Cloudbreak in Fiji, but jet skis are rarely used for surfing on the East Coast because the waves never get to the height or speed required for tow-in surfing….that is until a superstorm hits.
"The scary thing about that wave is it breaks right in front of a jetty," said Shea Lopez, a former US Open Champion, about tow-in surfing Pumphouse. "Then you get pushed into one of the deepest inlets on the coast. There were big fish and bigger sharks all around us."
Surfers were not the only people testing their limits as Sandy churned along the East Coast. Kitesurfers Rob Douglas and Damien LeRoy used the high winds off the coast of Massachusetts' Martha's Vineyard to catch high speed rides and big airs.
Kitesurfers strap a shortboard to their feet and use a huge kite to harness the power of the wind to propel them along the coast.
Many people have criticized these kitesurfers for taking what some say is unwarranted risks, especially after the 2008 accident where a kitesurfer was picked up by the wind and thrown into a building during Hurricane Fay.
LeRoy, however, defended his actions and said that they were done by trained professionals.
"The difference between our video and the sad incident during Hurricane Fay is we are paid professionals," LeRoy said, according to Outside Magazine. "We are mentally and physically prepared, our equipment has been tested and designed for these exact conditions and we know our limits."
While Florida was blessed with big, clean waves following Sandy's departure, thrill seekers up north took to the waves before the superstorm made landfall. Surf was rough and heavy, but that didn't stop the stop surfers in New York City's Rockaway Beach, New Jersey's Cape May and down in Virginia Beach from taking to the water.
However, most surfers headed warnings when Sandy picked up force and stayed away from the water.
"Let me say something again and again and again: please, the beaches are dangerous and surfing is extremely dangerous," New York Mayor Michael Bloomberg said last Saturday.
"This is no longer a surf situation, it's a stay-safe situation," added Mike Watson, a forecaster for the surf modeling company Surfline, according to the Daily Beast.
Hurricanes generally bring out great surf to the wave-starved East Coast, but not when they collide with a Nor-Easter and turn inland. As a storm makes landfall, big and small waves get mixed together, creating a turbulent, unsurfable and dangerous sea.
"For a small amount of pleasure, your life could be in danger," Bloomberg said. "But certainly the emergency workers will be in danger."
Follow us on twitter.com/foxnewslatino
Like us at facebook.com/foxnewslatino