Hispanicize Announces Winners Of Positive Impact Awards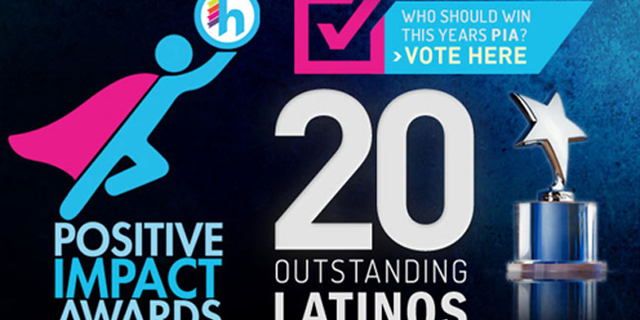 From a woman who collects clothes for teenagers so they could attend their senior prom to a veteran who helps at-risk youth, 20 people were selected for this year's Positive Impact Awards by Hispanicize.
The winners were Latinos in the U.S. who have helped out in their community through science, medicine and the arts.
"These extraordinary individuals are among the nation's many Hispanic Americans who routinely do good works for complete strangers in their communities and elsewhere," said Hispanicize CEO Manny Ruiz. "We are humbled by the amazing nominations we received and look forward to telling everyone the inspirational stories."
The Hispanicize gathering, which is in April, brings together Latinos in film, social media and journalism.
The winners include:
Henry Acosta is from New Jersey and won for his work with mental health and advocacy. He leads efforts nationally to help improve mental conditions for minorities.
Maysa Duarte Akbar, a winner from Connecticut, works with at-risk youth through her non-profit called VETTS (Veterans Empowering Teens Through Support), which pairs up veterans with youth.
Evelyn Alvarez Alvarez created a non-profit called Prom King that collects gently used clothing for young men for different occasions including prom. She also leads fitness classes for all ages to promote healthy living and confidence.
Mycah Lee Arellano hosts the "Eagle Talk Show" in Texas where he urges Hispanic parents to become involved in their children's education.
Macedonio Arteaga – Arteaga runs a Saturday mentoring program in San Diego, Calif., and also writes and directs for a Latino Comedy troupe that performs for disadvantaged audiences.
Saul Arvelo runs educational programs for the "I Have a Dream Foundation" and "Project Morry" in New York to help kids graduate high school.
Mike de la Rocha is from California and began the Living Rooms Across America (LRAA) annual series of events including performances and conversations.
Virginia "Viky" Garcia founded a local Crime Stoppers program in her community, contributes to the Humane Society, began the St. Peter's Historic Neighborhood Association to help with non-ADA compliant sidewalks and led the initiative of the Laredo Clothesline Project which focuses on violence against women.
Father David Garcia has supported, led, and been involved in programs like Catholic Relief Services' Global Fellows, Clergy Outreach for Catholic relief Services, and the Old Spanish Missions of San Antonio.
Dr. Anthony Gonzalez serves as the medical director of bariatric surgery at Baptist Health South Florida. He is known for his research in robotic surgery and has formed new techniques for different procedures like the Incisional/ventral Hernia repair and daVinci Gastric Bypass.
Jesus "Chuy" Medrano is the founder of CoCal Landscape in Colorado, which donates labor and construction materials to create needed infrastructure for hospitals.
Oscar Menjivar co-founded Urban TxT to help disadvantaged teens graduate high school and college.
Gaby Pacheco is an undocumented American that has been a leader in advocating for immigrant's rights in Miami. She helped create Students Working for Equal Rights and has been active in the national youth group, United We Dream.
Martha Pedroso does a lot of work with foster children in Florida. Pedroso is the president of the South Florida Foster-Adoptive Parent Association and a member of Florida State Foster-Adoptive Parent Organization.
Cristina Ramirez, known as the "TriathlonMami," co-founded CDI Chile, a non-profit that tries to get technology in poor communities and worked in community relations for Camillus House in Miami Dade County to raise awareness of homelessness. Now she is working on ThumbsUp to pull her quadriplegic friend to the finish line of the South Beach Triathlon.
Annette Ramos is a writer, storyteller, and performance artist who helps emerging Latino artists in New York. She manages educational services for Young Audiences of Rochester (YA) and directs Wolftrap/Early Learning Through the Arts.
Rodri Rodriguez played a key role in adding the Latin Category to the Grammy Awards. She is the president and CEO of Rodri Entertainment and is a cultural arts advocate.
Juan "Papo Swiggity" Santiago is the co-founder of Capicu Cultural Showcase, which strives to create a young poets platform. Santiago has also implemented many cultural initiatives.
Isela Sotelo has been the executive director of Los Angeles Music & Arts School for many years and is an accomplished musician. She has supported low-income students by sharing her musical passions and pride of Latino heritage with them.
Follow us on twitter.com/foxnewslatino
Like us at facebook.com/foxnewslatino