'Hernandezing': Aaron Hernandez's Arrest Sparks Twitter Sensation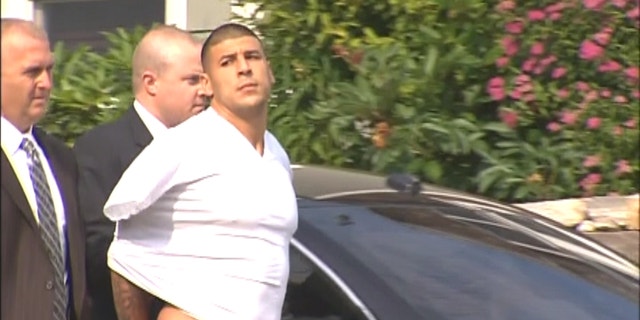 You've probably heard of planking, owling, Tebowing and Te'oing. But the latest craze to hit the Internet has some people up in arms – literally.
"If you aren't Hernandezing yet you are so behind the curve," Max S. Belts said on Twitter.
"Hernandezing," the two-faceted Internet meme, was created in response to former NFL Patriots player Aaron Hernandez's arrest this week for allegedly killing a semi-pro football player.
One version of Hernandezing mimics a 4-year-old photo of Hernandez taking a bathroom selfie while holding a handgun. The other parodies a different photo of the football player during his actual arrest, in which his arms are handcuffed behind him, but underneath his T-shirt.
Participants in the most recent meme sweeping the Twittersphere range from young to old, and they vary from literal interpretations to obviously mocking ones.
Jimmy Kempski tweeted a picture of a baby "Hernandezing" with her arms tucked behind her in an "I love hugs" shirt. Jeff Olin posed with his mother, tweeting, "my mom wanted to get in on this #hernandezing craze."
As far as gun pictures go, some whipped out their very own, very real firearms to hop on the Hernandezing trend. But others either didn't have the resources or the sincerity to do the same. Christian Hardy took his "Hernandezing" selfie with a foam-spouting Nerf gun.
Hernandez, 23, was arrested on Wednesday for the alleged murder of Boston Bandits' Odin Lloyd. His charges include first-degree murder as well as five other gun charges.
Follow us on twitter.com/foxnewslatino
Like us at facebook.com/foxnewslatino