Groom wears Eagles jersey to wedding after bride loses bet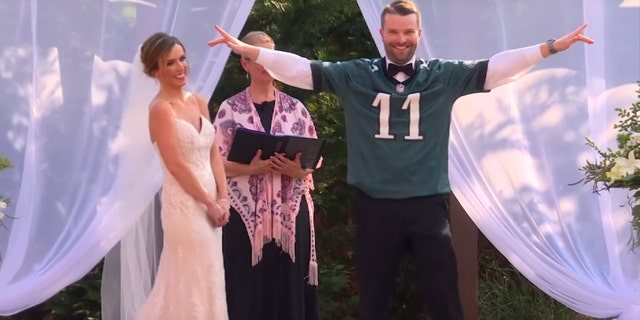 NEWYou can now listen to Fox News articles!
A newlywed in Pennsylvania is probably wishing she wasn't so quick to bet against the Eagles.
Jennifer Sullivan, of Conshohocken, was forced to let soon-to-be husband Patrick Hanks wear an Eagles jersey to their wedding over Memorial Day weekend after betting in October that his beloved team would lose Super Bowl LII.
COUPLES' DOUBLE MARRIAGE PROPOSAL AT THE ZOO GOES VIRAL
Sullivan had reportedly made the wager with the couple's friend Keith, who made the bet on his buddy's behalf, according to the New York Post. If she won, Keith would watch every episode of every iteration of "The Real Housewives" (one of Sullivan's favorite shows), but if she lost, Hanks would get to wear a Carson Wentz jersey to their nuptials.
Sullivan, an Eagles fan herself, was pretty certain they wouldn't be able to defeat the returning champs the New England Patriots. She ended up being wrong — and at their May 26 wedding, she had to hold up her end of the bet.
PICS: DELTA-OBSESSED COUPLE CELEBRATE WITH AIRLINE-THEMED WEDDING
During the ceremony at Bear Creek Mountain Resort in Macungie, the officiant even explained the terms of the bet while Sullivan, looking slightly exasperated, stood at the altar.
"Patrick, I think you have an obligation to fulfill," the officiant stated, prompting Hanks to strip off his jacket, reach into a bush for his jersey, and slip it over his head before saying "I do."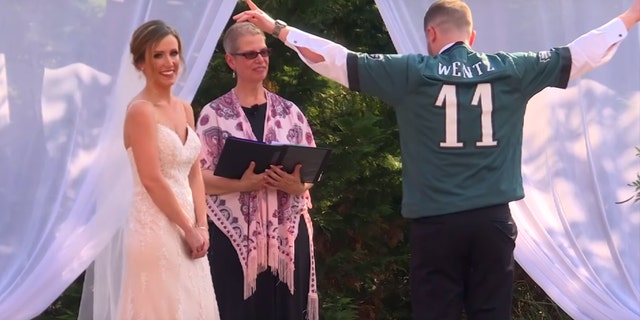 FOLLOW US ON FACEBOOK FOR MORE FOX LIFESTYLE NEWS
Despite her loud sigh after Hanks dons his jersey, Sullivan later said she wasn't completely upset about how the bet played out.
"It was just an absolutely amazing experience," she told the Post. "We wouldn't have done something like this if it wasn't going to be well-received by everyone."