Fox's 'The Daily Briefing' team to train service dog for Canine Companions for Independence
For people with disabilities, service animals can provide life-changing support and allow them to live with more independence. Over the last 43 years, the non-profit Canine Companions for Independence (CCI) has been providing highly-trained assistance dogs to those in need, free of charge.
CCI breeds Labradors and Golden Retrievers specifically to become assistance animals. Once the puppies are eight weeks old, they go to a volunteer who will spend the next 14 to 18 months providing basic obedience training, socialization and care. The dogs then go through six to nine months of specialized training, learning over 40 commands to become one of four types of assistance dogs:
"Service dogs assist adults with physical disabilities by performing daily tasks. Hearing dogs alert their partners, who are deaf and hard of hearing, to important sounds. Facility dogs work with clients with special needs in a visitation, education, criminal justice or health care setting. Skilled companions enhance independence for children and adults with physical, cognitive and developmental disabilities," according to the CCI website.
ANIMAL OBESITY CRISIS FUELED BY COUCH-POTATO LIFESTYLE AND EXCESSIVE FOOD CONSUMPTION, VETS WARN
Fox News' own "The Daily Briefing" Executive Producer, Jennifer Williams, found out about CCI after her younger brother, Kyle, was in an accident and became a paraplegic. But Kyle felt there were other people who needed the animal's assistance more than he.
"It was his selflessness that inspired me to raise a dog for Canine Companions, and that's when I started raising Ollie," Williams said.
Williams raised Ollie until he was old enough to be specifically trained for his future owner.
"If they graduate, they get paired up with someone and Ollie went to this middle school in Maryland and he worked with all kinds of kids with disabilities," she said.
After her brother died, Williams decided to raise another puppy for the program in honor of him. "We used to call my brother Spike growing up and so this puppy is going to be named Spike after my brother Kyle," she said.
Spike was just born January 29, along with five brothers and two sisters, to mom Dory. He'll soon be coming to New York City from his current home near Santa Rosa, CA.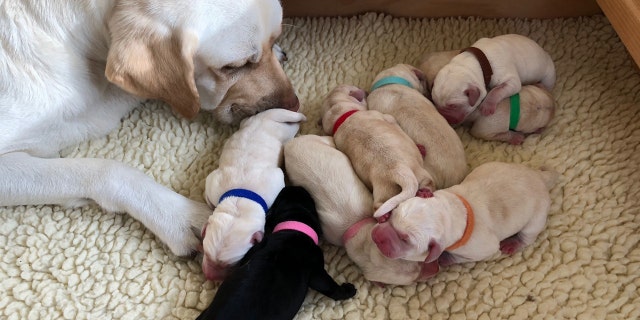 While Williams says it's hard to give away the dog after spending so much time with them, it's worth it because of the great work they do and the people they can help.
"It's hard because everyone wants to pet the dog and play with the dog. One thing everyone always asks is if it's so hard to give the puppy away, and you're like yes. But I don't really need the puppy. These people need the puppies more than I do. They need these service dogs. These service dogs do so much for people. They're so incredible," Williams said.
FOLLOW US ON FACEBOOK FOR MORE FOX LIFESTYLE NEWS
Once he's housebroken, Spike will soon be hanging out around the Fox News office as he goes through training with Williams. Check out "The Daily Briefing's" social media accounts for regular updates on how Spike is doing.