Former war photographer revisits Tet Offensive in new exhibit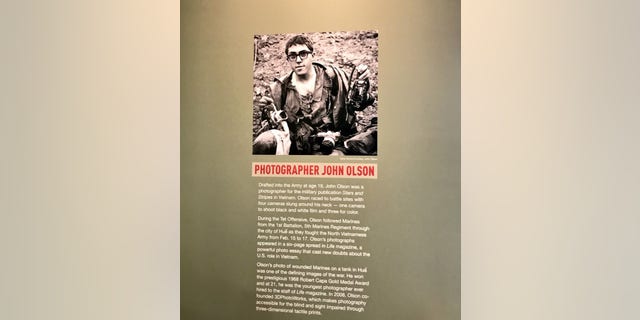 NEWYou can now listen to Fox News articles!
It is one of the most iconic photographs of the Vietnam War – and behind the lens was John Olson. Fifty years later, the former war photographer sheds a new light into a defining moment in American history with an exhibit at the Newseum in Washington, D.C.
Olson was one of the few photographers who captured the Battle of Hue – the bloodiest of the Tet Offensive launched on Jan. 31, 1968, which changed the course of the war as it was the beginning of the end, later prompting the U.S to withdraw.
At the time, few photographers were drafted to the war and Olson was only 19 years old. He was on assignment for the military publication Stars and Stripes in Vietnam. His images were also featured in Life magazine and granted him the Robert Capa Gold Medal.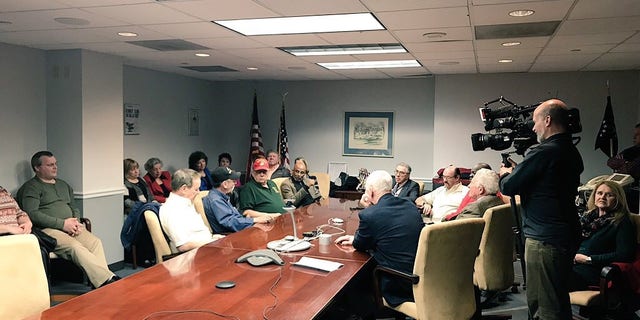 "If you are a combat photog, you can't fake it," Olson told Fox News. "You have to be in the middle of things. The more dangerous, the better. So surely after Tet broke out, I heard that battle of Hue was absolutely vicious."
The exhibit "The Marine and Tet" opened this January and is on display through July 8. It showcases 20 large-format photographs but also 10 tactile versions, which is a groundbreaking technique allowing the blind and low-vision to experience the images through touch and sound.
His most famous picture – The Tank – captures a young American soldier who had been shot through the chest laying over a door, used as a stretcher, on top of a tank, while his fellow marines are assisting him and trying to get him to a safe haven.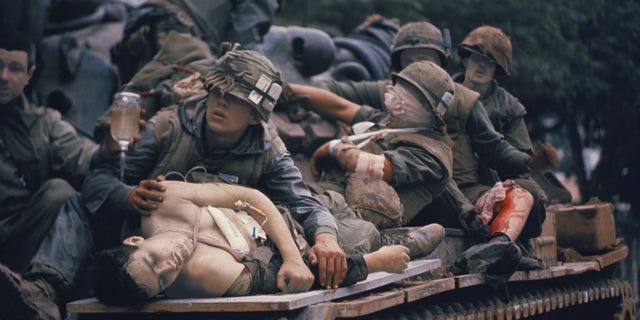 That former soldier captured in the photo, Alvin B. Grantham, said he hopes it tells a story.
"It's a moment in time of what happened on that day. You can see the carnage of the Battle of Hue," Grantham said. "… I was wounded very, very seriously. It's kind of fan eerie picture but I'm kind of proud of it, too."
Grantham was almost left for dead. He was only 18 years old then and is now a grandfather of 11.
The veteran is one out of the 10 who have been identified and interviewed by John Olson for the exhibit. Other marines he photographed remain nameless.
Olson is still determined to identify all of the men in his photos and has set up a website for anyone who would like to share their Tet stories: www.tet1968.com
The former war photographer said the process has been emotional.
"I didn't set out to help them," he said. "I felt this was an enormous opportunity to associate 70-year-old men with their 50-year-old photographs that shows them at 18 and hear how this time in Vietnam has affected their lives. I do believe many of these men, the time they spent together, the time talking about their experience –- it's closure."