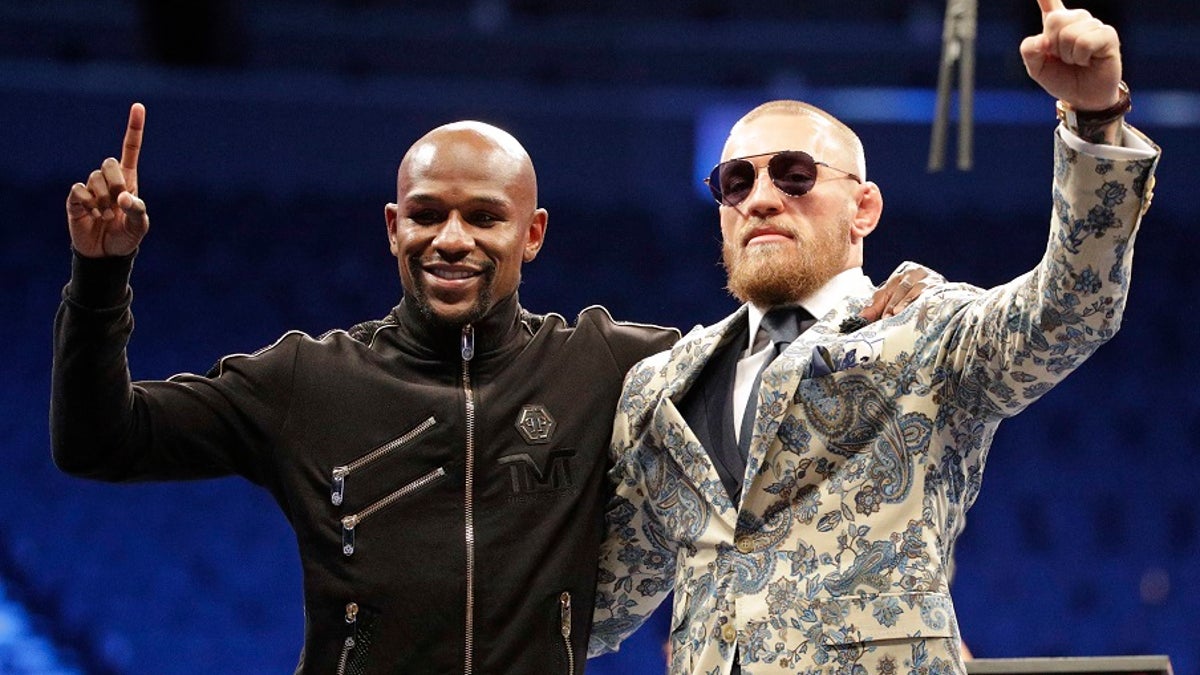 That's one way to spend your prize money.
In the wake of his victory over UFN fighter Conor McGregor in their highly publicized "Money Fight," Floyd Mayweather Jr. has wasted no time putting his reported $300 million in earnings to good use: In making his brand new $25.5 million Beverly Hills mansion feel like home, Mayweather has hung a pair of 8-foot portraits of himself and his recent opponent, according to a Sept. 26 Instagram post.
UNIFORMED DEPUTIES TURNED AWAY FROM FLORIDA ALE HOUSE DURING MAYWEATHER-MCGREGOR FIGHT
Depicted bare-chested in front of their respective national flags, Mayweather can be seen flexing his muscles in a victorious pose while Mayweather looks on.
"Exclusive timeless artwork in my Beverly Hills home," the boxer wrote. Not surprisingly, the artwork has been received on social media with mixed reactions.
According to the Los Angeles Times, Mayweather treated himself to the massive 15,000-square-foot, French modern-style home around Sept. 15 and has dropped about $500,000 (to date) on furnishing the mansion with high-end décor.
'COUCHGATE': ANTHROPOLOGIE MISTAKENLY SELLS $8,000 COUCH FOR FREE, THEN CANCELS ALL ORDERS
While we may never know of McGregor's portrait is meant to honor or undermine McGregor, we do know for certain that Mayweather sure loves his new home in the 90210. Since purchasing, Mayweather has referred to the mansion as his "estate", "palace" and "castle" in multiple Instagram photos of himself enjoying the home's luxe amenities.
FOLLOW US ON FACEBOOK FOR MORE FOX LIFESTYLE NEWS
Check out more photos of the home on Trulia.