Famed Mafia And Movie Star Hotel In Havana Gets A Makeover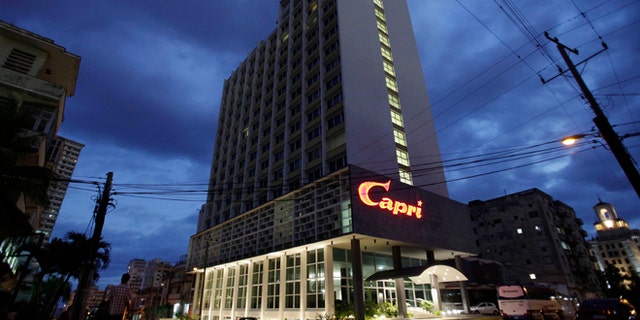 Havana (AP) – In its heyday, Havana's Capri hotel and casino was the playground of men known as The Blade and The Fat Butcher.
It was also a pleasure garden for headline stars who portrayed Mafiosi on the silver screen: George Raft, known for hoodlum roles such as Guino Rinaldo in 1932's "Scarface," was the casino's celebrity "greeter" and made his home in the 19th-floor penthouse.
Havana's hedonistic mob-and-movie-star days came to an end with Fidel Castro's 1959 revolution, and the hotel drifted into a long, slow decline. But now the Capri is back in business after being closed more than a decade ago. Its rebirth is part of Cuba's latest bid to trade on its colorful pre-Communist past and attract tourist dollars to fund its socialist present.
"It's a feeling of that era (at the Capri). I think in Cuba you feel that in general," said Roberto Escalante, a 62-year-old Mexican university professor who was staying in the hotel this month during an academic conference. "It's very comfortable. It's missing some services still, but yes, you feel like you're back in those times — which were good!"
Indeed, details such as the Capri's polished, art-deco granite floors with their flowery bronze inlays fit right into a city that still teems with finned Chevrolet and Cadillac classics. So do the graceful copper-colored lobby chandeliers, which like the floors are restored originals.
The newly refurbished Capri reopened around New Year's as a partnership between state-run tourism company Grupo Caribe, which owns the hotel, and Spanish hotel chain NH Hoteles SA, which is responsible for administration.
Built in late 1957, the Capri enjoyed a brief but madcap run as one of the flashiest mob joints of the time. Charles Tourine (The Blade,) managed the nightclub, while Nicholas di Costanzo (The Fat Butcher) ran the casino. The two were lesser-known henchmen associated with more notorious bosses like Meyer Lansky and Santo Trafficante.
Gangsters rubbed elbows with some of Hollywood's leading lights here. Swashbuckling actor and renowned playboy Errol Flynn frequented the Salon Rojo club where scantily clad cabaret dancers shimmied for tourists.
The handsome public face of it all was Raft, who grew up around gangsters and maintained personal ties to a number of capos.
T.J. English's "Havana Nocturne," a history of the mob in Havana, recounts Raft's memories of the night when Cuban strongman Fulgencio Batista fled the country ahead of the inexorable advance of Castro's bearded rebels. New Year's Eve merrymaking was coming to an end and Raft had just retired to the penthouse, where a young woman recently crowned Miss Cuba was waiting.
"There she was, asleep in my bed, but I noticed how she opened one eye when I came in the room. Now she's half awake and amorous. 'Feliz ano nuevo,' I said as I got between my silk sheets, alongside this fantastic girl," Raft later said, according to "Havana Nocturne." ''In the middle of this beautiful scene — suddenly — machine-gun fire!"
Hurrying downstairs, Raft pleaded for calm with revolutionary-minded Cubans who were ransacking the hotel, English writes. Finally a young woman recognized the movie star and persuaded the others to listen. They ended up doing a little "lightweight looting," then left.
"So while the shooting and all that continued in the streets, the Capri was saved, at least for the moment," said Raft, who died in 1980.
It wasn't long before the mob's hotels all passed into the hands of the revolutionary government. Castro himself set up shop for a time in the nearby Havana Hilton, later redubbed the Habana Libre.
Most of the mafia bosses fled Cuba — out millions of dollars in lost revenue and investments.
The Capri operated as a state-run hotel for decades and at times hosted a different sort of celebrity guest, people such as Cuban crooner Omara Portuondo and left-wing Uruguayan writer Mario Benedetti. In 1997, militant anti-Castro exiles set off a bomb in the lobby that caused severe damage but no fatalities. The Capri survived, but like many buildings it became run-down from lack of maintenance, and closed in the early 2000s.
After apparently sitting idle for years, restoration began about four years ago according to hotel officials. Workers are still refurbishing some rooms and laying carpeting on some floors. During a recent visit, finishing touches were being put on the rooftop pool, which boasts stunning views of the Florida Straits.
Much has been kept faithful to history, down to the Capri's swooping deco logo. Low-slung, 1950s-modern sofas grace the lobby, and old Havana cityscape photos hang in the rooms. Hotel operators are talking about putting historic pictures in the lobby like the nearby Nacional, another hotel where the mob once ran a lucrative casino.
Nods to modernity include building-wide Wi-Fi, though it's not included in the price of a room. What once was Raft's penthouse is now a high-end restaurant with white tablecloths and plush, lavender-paisley chairs. The Salon Rojo is a popular disco with a $10 cover — no gambling allowed.
"It's just friendly, modern. We like being here," said Elke Feusi, a 49-year-old banker from Winterthur, Switzerland.
Ciro Bianchi Ross, a Cuban journalist who has researched and written about the Capri, disagreed with the notion the hotel represents a lost, glamorous past. He noted that the cabaret parties and casino riches were for the elite, while many Cubans struggled with poverty, disease and illiteracy — a social equation that the 1959 revolution was specifically intended to upend.
Still, he called the Capri one of the three most architecturally important hotels of its era in Havana and said there's nothing wrong with using Cuba's mafia past to create income and jobs for the country.
"It's benefiting from history, and I think that's valid. We can't renounce a heritage like this or the Hotel Nacional," Bianchi said. "Buildings are not to blame for their history."
Follow us on twitter.com/foxnewslatino
Like us at facebook.com/foxnewslatino