Disneyland character performer becomes model after being discovered on Instagram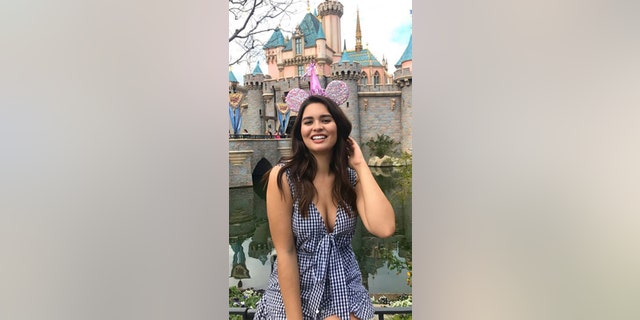 NEWYou can now listen to Fox News articles!
A Disneyland character performer has found a new career as a model after being scouted on Instagram.
Bella Golden was contacted by a modeling agency on the social media site after leaving a random comment on another model's photo.
She said she first thought the whole thing was just a scam.
BOY STUNNED TO FIND 30-YEAR-OLD BAG OF CHIPS BURIED ON BRITISH BEACH
"They found me because I commented on one of Iskra Lawrence's posts. I had been following her for a while and she posted something about body positivity, so I just commented something like 'You look great, girl' and that's how my agent found me," Golden told Cosmopolitan U.K.
"My profile was private but [the agent] followed me and then direct messaged me the next day asking if I was interested in modelling. I really thought it was a scam at first because, unless watching a lot of 'America's Next Top Model' counts, I had never done any modelling before," she said.
Golden jokes that even though she didn't have any experience in the industry, her time working at Disneyland might have helped prepare her for the job.
"When I was first scouted I was working at Disneyland California as a character performer, which is kind of funny when I think back because I guess I've been posing for pictures longer than I realized. When people found out I worked at Disneyland they would always ask me if I was a Princess but I wasn't. I was the one dressed in a full on animal suit completely sweating," she said.
Now signed with the international agency Wilhelmina, Golden is on her way to making a name for herself in this new career. At a size 12, she's considered plus-size in the fashion industry, but Golden is happy to be able to use her platform to promote body positivity and diversity.
"Learning to love myself definitely wasn't an overnight thing, so I adopted the 'fake it until you make it' attitude. Social media has also helped me feel better about myself by forcing me to step out of my comfort zone and post things that I would appreciate to see other people posting. I want any 14-year-old girl who follows me to feel comfortable in her body, so I purposefully go outside of my own comfort zone to show them a different body shape on a regular beach, rather than the 'perfect body' on a yacht somewhere," she said.
The model also said she hopes someday it becomes the norm to show a wider range of body shapes and sizes.
FOLLOW US ON FACEBOOK FOR MORE FOX LIFESTYLE NEWS
"I hope we can get to a point where diversity is a given and we don't have to label people by their size, race or disability. The more different body types we show the better, that way young girls who are growing up now will have something they can identify with."