Cranberries grab Thanksgiving spotlight, especially in Wisconsin
'Tis the season of the cranberry.
Eleven months out of the year, you probably never think of the tart red fruits, but come Thanksgiving, the little suckers take center stage on tables across the country.
Unless of course you grow them for a living, in which case you think about cranberries night and day. That's the case at more than 250 farms across Wisconsin, by far the nation's largest cranberry producer, churning out around 4 million, 100-lb barrels of cranberries every year.
RECIPE: Cranberry polenta coffee cake
It turns out there are two kinds of cranberry farms: the ones that produce fresh cranberries, and the ones that grow cranberries for juice and other products. We spent time at both during harvest season in central Wisconsin to learn what it's like to earn your keep on a cranberry farm.
"[Harvest time] is kind of the reward for all the hard work"
Jessi Rezin's family has been running Cutler Cranberry for generations. (Interestingly, Rezin's husband also runs a different cranberry farm – his family's!)
"It's long days," Rezin told Fox News about farm life. "But [harvest time] is kind of the reward for all the hard work."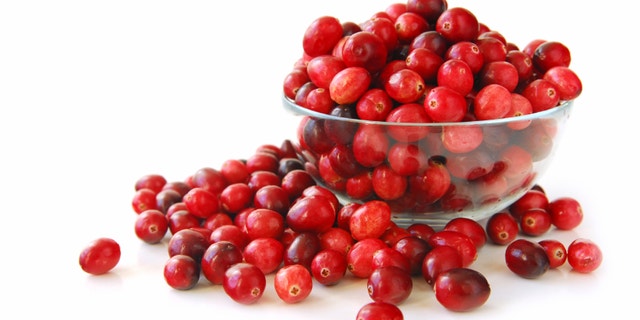 Cutler produces their fruit for products like cranberry juice and sauce, and has a fairly automated harvesting process involving tractors, machines, huge booms and massive trucks. But farms that produce fresh berries need more manpower as the berries are first put on small boats, loaded onto trucks, then offloaded into a massive dryer.
RECIPE: Martha Stewart's slow-cooker cranberry crisp
Ray Habelman oversees the Habelman Bros. operation, which churns out the fresh cranberries you'll likely be using in your Thanksgiving sauces and relishes.
"We're taking really good care of the fruit," Habelman told us. "We're being gentle, we're not bruising it, so we have different machines, a lot more labor, and less water."
Huge lakes of H20 are what most people think of when they picture a cranberry farm, but the fruits don't grow in water at all. The beds are only flooded come harvest time.
Cranberry harvests have been happening in Wisconsin since the 1800s, and the final step at the Habelman farm involves a wooden sorting machine his family has been using continuously since 1923.
"It's fun," Habelman grinned.
And a lot of hard work.