Conservationists release thousands of endangered baby turtles back into wild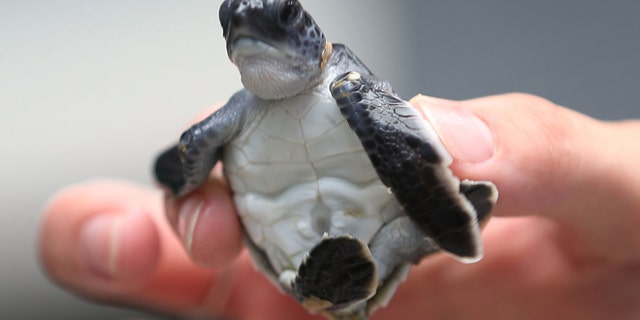 NEWYou can now listen to Fox News articles!
Thousands of yellow-spotted Amazon River turtles were set free by conservationists over the weekend, the first in a series of three planned releases in a protected area of northeastern Peru's Amazon Basin.
Known by their local name, Taricaya, environmentalists hope the program will assist in conserving the at-risk species for years to come.
Over 17,000 Taricaya baby turtles were released by volunteers in a stream of the Pacaya Samiria National Reserve in the Loreto region.
Locals came out to witness the event and see first-hand the turtles' return to their natural habitat.
Employees from Peru's National Service of Protected Natural Areas by the State (SERNANP) began collecting the delicate eggs in August, and have cared for them in improvised nests during the 30 days they take to hatch.
Expert naturalists guided the handling of the 278 eggs and distributed them into 10 tiny sandy nests.
At one time the turtles lived in abundance along the Amazon, but in recent years, thanks to logging and population growth, their numbers have dwindled.
The next release will take place Nov. 23.
The project was made possible through coordination with the Chief of the Pacaya Samiria National Reserve.
When all is said and done, about 500,000 turtles will be released.
The turtles can live up to 70 years.