Company debuts skimpy Melania Trump-inspired costume ahead of Halloween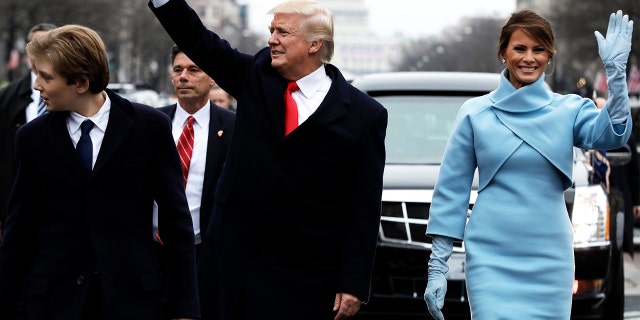 "Donald Trump" has been a hot Halloween costume since 2015, but now party-goers can finally dress like the First Lady — or a "Model Wife," as the retailer is calling it.
Lingerie and costume retailer Yandy is selling a 'Model Wife' costume that closely resembles the powder blue cashmere Ralph Lauren emsemble Melania Trump wore on Inauguration Day, but unsurprisingly, with a sexy twist.
REVEALING PREGNANT KYLIE JENNER HALLOWEEN COSTUME IS AVAILABLE FOR $60
"Stand by your hubby in this exclusive Model Wife costume," the ad reads. The outfit features a high-collar wrap-front cropped blouse and matching high-waisted skirt. The model wearing the outfit is also donning satin white gloves — reminiscent of those worn by Melania on Inauguration Day — though the ad notes they're "not included" as part of the $69.95 get-up.
"Inspired by a certain someone's Inaugural ensemble by a Polo-playing design legend, this blue (Tiffany anyone?) sexy take would make you welcome at any house regardless of the color from Milan to Washington," it says in a press release.

FOLLOW US ON FACEBOOK FOR MORE FOX LIFESTYLE NEWS
Yandy also offers other politically themed Halloween looks, such as its "Donna T. Rumpshaker" costume, complete with shirt blonde wig and a "Making America Great!" red hat, or its "Sexy Fake News" costume, which allows wearers to "spread all the alternative facts."