College student says she was kicked out of her school gym for wearing a crop top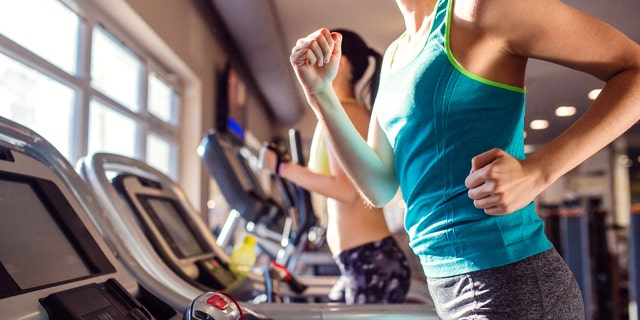 NEWYou can now listen to Fox News articles!
A South Carolina college student's gym selfie has gone viral after she claimed her school gym recently kicked her out for wearing a crop top.
Sarah Villafañe, a student at the College of Charleston, recalled the encounter with George Street Fitness Center employees on Facebook. She wrote that when she walked into the gym, she was asked to put on a different shirt, but she worked out anyway because she had worn the midriff-baring tank top and black leggings all day at school and there wasn't an issue. Plus, she shared on Facebook, she didn't have anything except flannel to change into.
WOMAN CALLS STRETCH MARKS 'GLITTER STRIPES' IN VIRAL FACEBOOK POST
Villafañe shared that a male employee approached her while she was working out, whereby an argument ensued.
"He says, 'Are you gonna put a shirt on?'" Villafañe wrote in the post. "And I said, 'Well if this isn't a shirt … no. I'm not gonna put a shirt on."
On Facebook, Villafañe aired her grievances toward the gym.
"I literally bought this outfit to work out in because it's COMFORTABLE," she wrote. "What is the issue? Why can't I work out in this outfit? Is my belly button distracting to the general 85% male demographic that your gym serves? I'm forced to leave, WHY? Honestly I'm so floored that I just got kicked out for this."
COSMOPOLITAN MAGAZINE CRITICIZED FOR INSENSITIVE TWEET
Villafañe raises the heated topic of controversial dress codes that some say unfairly target young women. But a spokesman for the College of Charleston told Yahoo! Style that Villafañe wasn't kicked out because she was violating school dress code, but rather because the shirt posed a danger to herself and other gym-goers.
"The College of Charleston and many other Colleges and universities follow best practices that require people in the gym to wear a full shirt while working out in order to minimize skin exposure to possible infectious agents," Mike Robertson, senior director of media for the College of Charleston, told Yahoo! Style.
ZARA SLAMMED FOR USING 2 THIN MODELS IN 'CURVES' CAMPAIGN
He referenced the National Athletic Trainers' Association's (NATA) warning that athletic settings may be vulnerable to the spread of infectious diseases. NATA does not recommend full clothing to prevent infection, but it does encourage college and university gyms to maintain clean environments, Yahoo! Style reported.
Robertson told ABCNews4.com that the rules apply to men and women, and the news station reported that the facility's dress code is displayed at its entrance. Although they don't ban midriffs outright, the rules do require wearing "athletic attire" including "T-shirts, running shoes, sneakers, shorts, or pants" and "footwear."
FOLLOW US ON FACEBOOK FOR MORE FOX LIFESTYLE NEWS
Still, if the comment thread on Villafañe's Facebook post is any indication, whether the rule unfairly targeted her based on her sex or if her outfit posed a real health threat is up for debate.
As of Wednesday afternoon, the April 19 post had received more than 1,400 reactions, nearly 500 comments, and over 500 shares.