Celebrity chef Aarón Sánchez paying it forward with scholarship program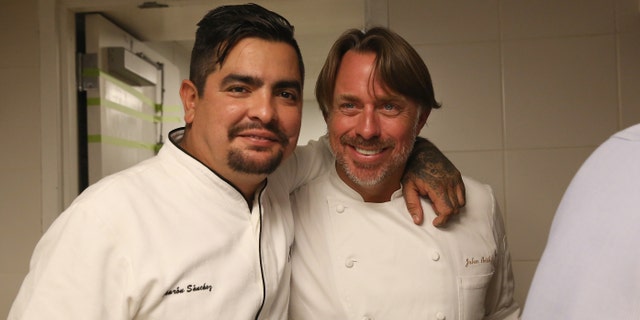 NEWYou can now listen to Fox News articles!
After achieving rock star status in the culinary community, the award-winning chef Aarón Sánchez is now devoted to paying his triumphs forward by helping fledgling masters.
In collaboration with John Besh Foundation's "Chef's Move!" scholarship initiative, the Food Network personality has launched the Aarón Sánchez Scholarship Fund, which will send one aspiring New Orleans-based Latino cook to the International Culinary Center in New York.
Additionally, the selected chef will be mentored directly by Sánchez and travel with him to Mexico.
"Some of the most important lessons I've learned from my mentors were outside of the kitchen, so I think it's important to just spend time with each recipient, learning who they are, where they are from and what they want to accomplish," Sánchez told The Times-Picayune.
In order to raise money for the scholarship, Sánchez and his business partner, Miles Landrem will host a $250 dinner at Pigeon & Prince in New Orleans on Nov. 3, where they will be joined by Sanchez's own mentor, Douglas Rodriguez, the godfather of the Nuevo Latino Cuisine movement, Deuki Hong, the chef at New York's trendy Korean barbecue restaurant Kang Ho Dong Baekjeong; and José Colin Jr., recently a sous chef at the French Laundry.
The restaurant industry in the U.S. typically depends on the help of Latino talent around the kitchen, but few of those ever move up the ladder to become executive chefs or chefs de cuisine. Sánchez, who is of Mexican descent, is working to change that with his newly minted scholarship program.
On the event's website, Sánchez is quoted as saying that he believes young chefs are, "The future of our industry. We're highlighting their abilities and talent."