Cara Delevingne's 'cat-calling' Jimmy Choo ad sparks outrage on Twitter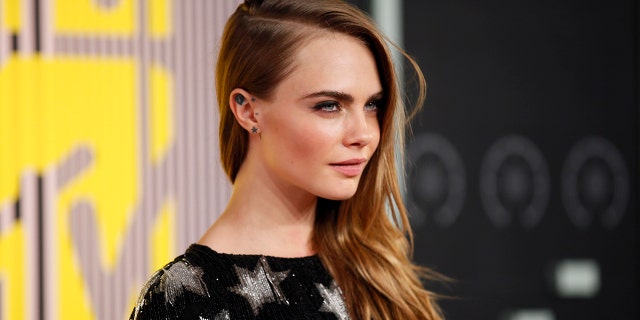 NEWYou can now listen to Fox News articles!
The model-turned-actress is making a fierce returns to the fashion world in Jimmy Choo's new ad, but not everyone is on board.
Cara Delevingne teamed up with the high-end shoe designer for a commercial promoting a new sock boot. In the nearly two-minute advertisement, Delevingne struts down a New York City street in a sparkly red mini dress and shimmering Jimmy Choo sock boots. As she walks down the street, men cat-call her, complimenting her shoes and the way she looks. Delevingne either ignores the comments or smiles at them before continuing on her way.
KYLIE JENNER'S POP-UP MAKEUP SHOPS SLAMMED AS UNSANITARY
The commercial intends to capture the fun spirit of the flirty shoes, but people on Twitter are now slamming the designer and Delevingne for the ad, which many call "tone deaf" in light of the recent #MeToo movement addressing sexual harassment.
One Twitter user brought up the timing of the ad, saying, "Perhaps now is not the best moment to run an ad about how cool and sexy catcalling is?"
Another said, "Nothing say 'buy me' like harassment. Hard pass."
While one woman called the ad itself a form of sexual harassment, tweeting, "I completely disagree with @Caradelevingne and @jimmychoo decision to use #sexualharassment to sell shoes. #tonedeaf."
Those offended by the ad have prompted outrage across Twitter, but they are not the lone voices. There have been many in support of the ad featuring the 25-year-old.
FOLLOW US ON FACEBOOK FOR MORE FOX LIFESTYLE NEWS
One user commented, "I love the new Jimmy Choo 2018 campaign video so much, have no clue why but watching Cara Delevingne walk is so satisfying"
Another tweeted similar sentiments, writing, "That Jimmy Choo commercial with @Caradelevingne is so inspiring"
Neither Delevingne nor Jimmy Choo have commented on the controversial ad.