Bridezilla mocked after strict wedding rules go viral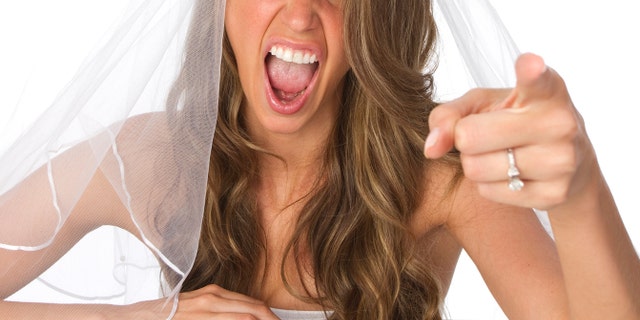 A stunningly strict list of alleged "rules and regulations" for one couple's nuptials has gone viral on Reddit, leaving many wondering why anyone would want to attend such a humorless event.
On Sept. 20, Redditor Laika_cat posted the image of an email allegedly sent by the "wedding coordinator" of the upcoming ceremony, which included stipulations such as "kindly refrain from upstaging the bride on her big day — oh, and no admission without a gift of $75 or more."
The post has since earned over 10,000 points on Reddit and sparked 1,160 heated comments, many critical of the rules that were outlined in the message.
COLLEGE STUDENT EMAILS 247 NICOLES TO FIND DREAM GIRL AFTER NIGHT OUT
"Please arrive 15-30 minutes early. Please DO NOT wear white, cream, or ivory. Please do not wear anything other than a basic bob or ponytail. Please do not [have] a full face of makeup," the list begins.
"Do not record during the ceremony. Do not check in on [Facebook] until instructed. Use #[Wedding hashtag] when posting all pictures."
"DO NOT TALK TO THE BRIDE AT ALL," it continues.
"Everyone will toast with Rémy. No acceptance. Lastly must come with gift $75 or more or you won't be admitted," the list concludes.
Naturally, Redditors had a field day roasting the pretentious demands, which many suspected to be sourced from the bride herself.
"Who toasts at a wedding with hard liquor?" one wondered.
"I'd love for all guests to all show up naked with ponytails. That would be beautiful," another said.
"Bring 7,350 pennies," one cheeky commenter said.
"What an excellent list of reasons to not go," another added.
Despite the backlash, the origins of the now-viral email — and the veracity of the alleged brides requests — remains unclear.
FOLLOW US ON FACEBOOK FOR MORE FOX LIFESTYLE NEWS
Though the summer wedding season is officially winding down, this is the second time a bridezilla has made headlines for merciless demands in recent weeks.
In late August, one irate woman caused a stir on social media for her long-winded tirade blaming her friends and family for the cancellation of her dream wedding — namely because they wouldn't pitch in to pay for the majority of the $60,000 cost.