Brazil Preps for World Cup 2014, But Will it be Ready in Time?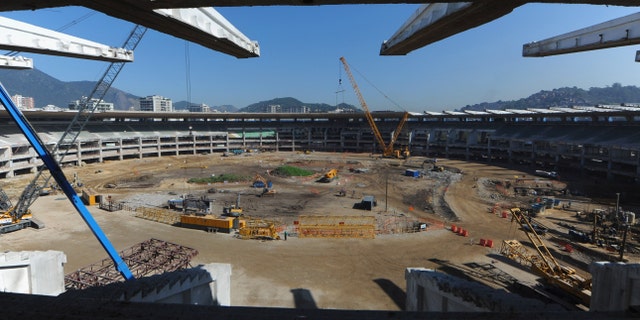 Billions around the world will turn their eyes toward Brazil in 2014 to watch as 32 countries compete in the 20thFIFA World Cup, but some predict that the largest country in South America won't be set up to receive the possible 1 million estimated visitors attending the games.
Twelve of Brazil's cities will play host, from their biggest cities - Rio de Janeiro, São Paulo, Salvador and Brasilia to smaller locations including Porto Alegre, Belo Horizonte, Curitiba, Natal, Manaus, Fortaleza, Recife and Cuiabá.
Romário de Souza Faria, a former Brazilian football star and World Cup winner turned lawmaker for Brazil's Socialist Party, recently slammed his country's preparation efforts in an interview with ISTOÉ magazine.
"I think that [Brazil] won't be 100 percent ready. Of the 12 stadiums [that are to stage World Cup events], maybe 10 will be ready," he told the weekly Portuguese-language magazine, contradicting Brazil's Sports Minister Aldo Rebelo who, little more than a month ago, promised that the country would be ready by 2014.
"As to work on public transportation, none of the cities involved will be able to complete it fully," Romário added.
Romário isn't the only one with concerns. According to a 2011 report by the state-backed Institute for Applied Economic Research (IPEA) most of the airport upgrades were not on schedule to be completed in time. Of the 13 airports being upgraded, the report said, 10 will probably not be completed by June 2014, when the World Cup is scheduled to take place. It was also reported that regardless of whether the proposed work were to be completed, 14 out of 20 of Brazil's airports would be operating beyond their capacity.
Stadiums and airports are not the only problem areas Brazil must tackle with less than three years to go.
Classified as a developing nation, Brazil's transportation system is limited and the country of 192 million experience frequent power shortages, which, more than a simple inconvenience, could cause technical and security issues.
Despite worries and criticism, Brazil pushes on with plans to invest more than $10 billion to address these issues as well as others – not only as hosts in preparation of the 2014 World Cup, but with hopes of long term benefits to the country and its people.
Tracy López is a bilingual writer living outside the Washington DC metro area. She is the founder of Latinaish.com.
Follow us on twitter.com/foxnewslatino
Like us at facebook.com/foxnewslatino