Argentina's Famed Beef Industry On Decline Thanks In Part To Evolving Tastes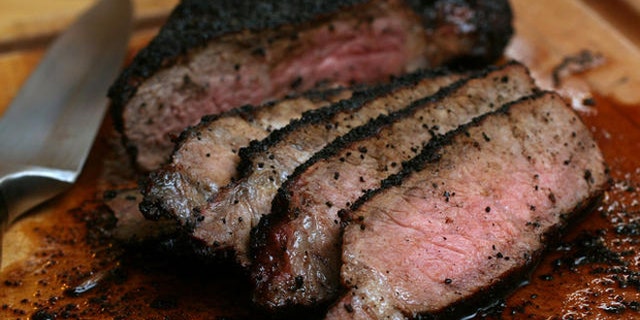 In a country known worldwide for its famed love of red meat, tastes may be changing.
Argentina, home to the celebrated parrillas restaurants that serve heaping platters of sirloin steak, T-bones and blood sausages, has fallen from its once lofty perch as the world's top consumer of beef. Its tiny neighbor, Uruguay, has replaced the Southern Cone country, which has fallen to the 11th largest beef consumer – behind countries such as New Zealand and Mexico.
"We are witnessing a historic decline in our beef industry," said Ernesto Ambrosetti, chief economist of the Argentine Rural Society, the country's largest farming association, according to The New York Times. "Now our smaller neighbors, Paraguay and Uruguay, have passed us."
Beef is a central part of the Argentinean identity, with songs and literature dedicated to the famed gauchos who work as cattle ranchers and a juicy steak being served at almost every restaurant in Buenos Aires alongside a glass of Malbec.
Despite the cultural connection, Argentinean beef consumption has plummeted since its high in 1956, where every person in the country ate on average 222 pounds of beef a year. Last year Argentineans ate only 129 pounds of beef each, a low number compared to 1956 but still high above the U.S. that consumed only a measly 57.5 pounds per person.
Ranchers and industry insiders blame the reason for Argentina's meat melancholy on government regulations that, while meaning to bump up domestic consumption, have actually made it more expensive for cattlemen to maintain large herds. The heft cost of ranching has led many to exit the business in favor of the cheaper and more profitable life of soy farming.
Government officials claim that the measures – including export restraints and price controls – have actually raised beef consumption. To the government's credit, beef has seen a slight rise since its nadir in 2011.
Some in Argentina, however, argue that the decline in Argentinean beef has less to do with pricing and more to do with an evolving taste in the country. Sales of poultry, pasta and pizza are on the rise thanks in part to a growing awareness of the health issues related to eating beef and Argentina's nascent but growing vegetarian market.
According to the BBC, a study warned that pizzerias could soon outnumber steakhouses in Buenos Aires, and that restaurants serving patties made from yamani rice and adzuki beans have become trendy spots in the capital.
"Argentines are demanding a change," said Mauro Massimino, a vegetarian who owns Buenos Aires Verde vegetarian restaurant, according to the Times. "Around five years ago, vegetarianism started to gain traction here, and the growth since has been incredible."
This new shift in culinary choices does not sit well with some Argentineans, who see the lack of beef not only as an abandonment of the country's cultural tradition but also as a poor dietary choice – even as they admit that beef may not be the best choice to eat.
"Beef consumption is threatened by modern trends of healthy eating, mainly the exaltation of what's natural and ecological, stimulating vegetable consumption," the Argentine Beef Promotion Institute warned in a 2006 report.
Follow us on twitter.com/foxnewslatino
Like us at facebook.com/foxnewslatino