An Organizing Expert's 7 Space-Saving Hacks for Small Places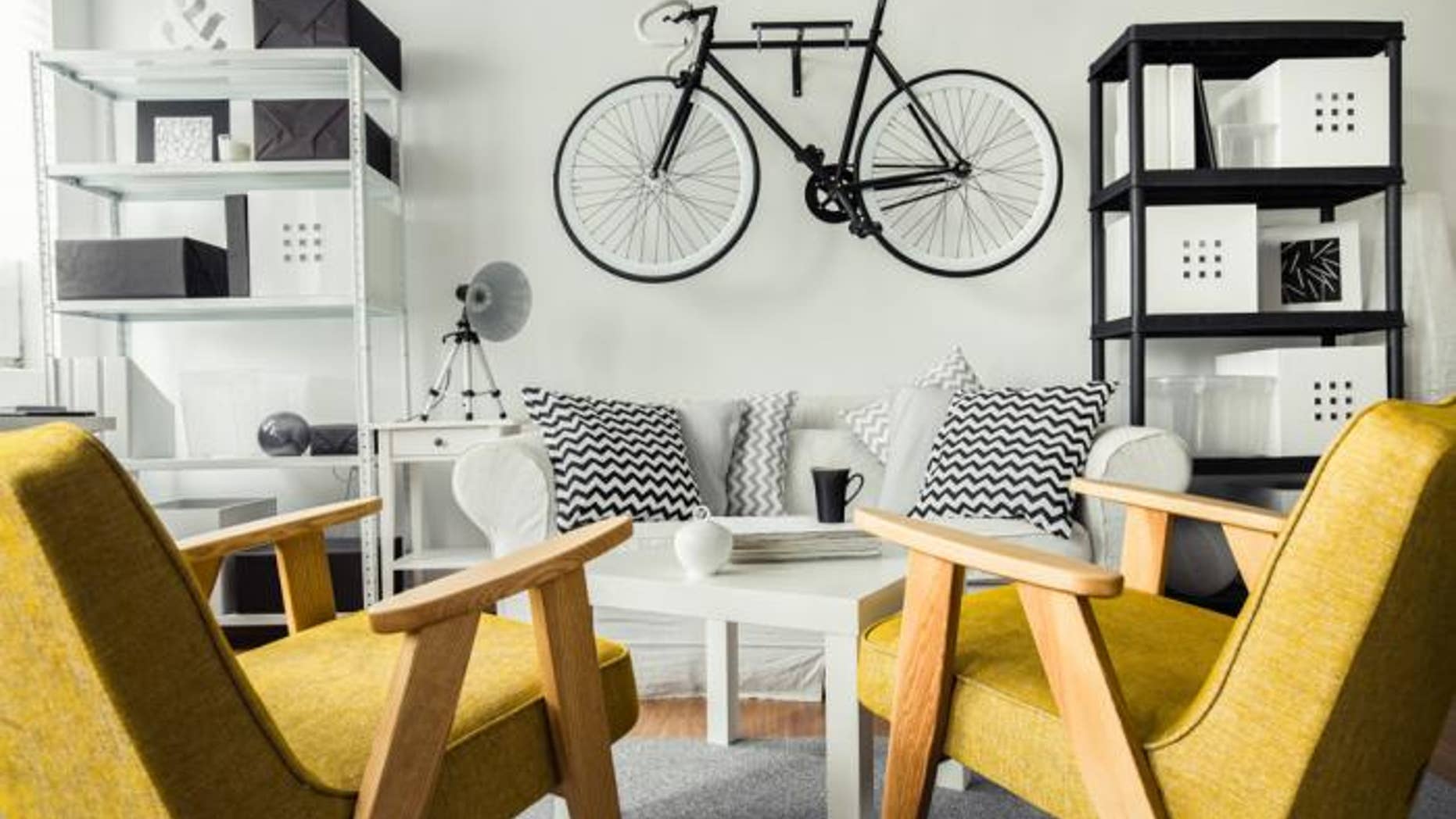 Feeling cramped? The walls don't need to be closing in on you.
Living in a small space can create a cozy atmosphere, but it can also be the cause of serious clutter. And while you could resort to going full Marie Kondo, there are other easy ways to create more space and keep the mess at bay. Just as Brit Morin.
The organization expert — who also serves as the lifestyle blogger/entrepreneur behind Brit + Co — is determined to offer some simple, fun solutions that will help readers save time, stress, and yes, space.
So before you start crying in a corner (sorry, it's already loaded with clutter anyway), read up on Morin's seven suggestions for how anyone, including you, can make the most of a tiny living environment:
Hang a Pegboard
"If your space feels cramped with bulky furniture, consider hanging a pegboard to utilize wall space for storage. You can customize it with shelves and hooks to create a storage solution that works for you. I have floor to ceiling pegboard in my kids' rooms and it holds everything from books to art to clothes. The best part is that we can rearrange it as the kids grow older and their needs change."
Replace Hardware
"Small spaces can be hard to personalize, but I've found that replacing the hardware in your home is an easy and inexpensive way to update your space. Changing up the pulls on kitchen cabinets and bathroom rings and hooks is the best place to start. One of my biggest pet peeves is the toilet paper spring. Swap it out for a classic hook that will be more stylish and minimize time changing the roll. I also like to invest in products that offer more for your money. For example, I'm a fan of Cottonelle Mega Roll, which features four rolls in one to save you additional time and space in such an essential place within your home."
Rely on Clear Storage Jars
"In any home, stylish and effective storage is key. Use clear apothecary jars to store your most-used bathroom products like cotton balls, swabs and wipes. You'll be able to see where everything is, so you'll use it more often and avoid buying more of a product you already have."
Organize Jewelry (the Right Way)
"Organize jewelry by using acrylic inserts that layout necklaces, bracelets, earrings and rings. These inserts come in all shapes and sizes so you can find the best fit for your drawers. I use these to keep my jewelry easy-to-access and tangle-free, but they're great for organizing office supplies and kitchen utensils as well."
Install a Wrapping Paper Drawer
"I love giving gifts, so naturally I love wrapping paper. Unfortunately, it's one of the hardest things to store efficiently at home. I installed a wrapping paper drawer with spaces for individual rolls, ribbon and gift tags, so gone are the days of storing it all in the hall closet."
Make Use of Candlestick Votives
"Use a candlestick votive and a cute colorful plate to create a stylish accessory holder. It's easy to secure by hot-gluing the candlestick holder to the bottom of the plate. These are great in entryways, bathrooms and closets for holding jewelry, keys and other odds and ends."
Create Guest Baskets
"Be prepared for unexpected visitors with a guest basket full of wash clothes, towels, toiletry essentials and any other products your guests might need. It's so simple to put together and will help your guests feel right at home."