Alabama school's hilarious 'opt out' fundraising letter goes viral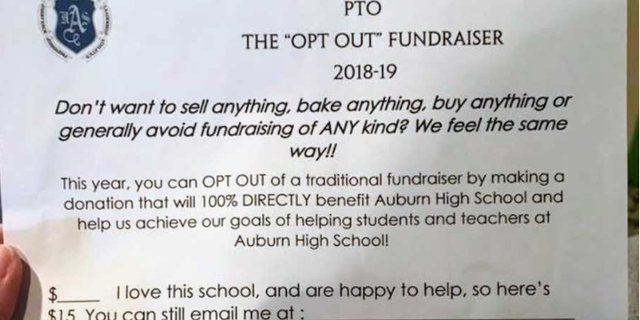 An Alabama mom is applauding her 16-year-old daughter's high school for taking a unique approach to student fundraising this year — asking for donations directly instead of forcing parents and children to participate in bake sales, sell products or spend hours making cold calls.
Briana Leggett Woods, a mother of two from Auburn, was preparing for another stressful year of "brown envelopes, emails and Sign Up Genius notices" when she returned from her tenth-grade daughter's "Back to School Night." But as the mom shuffled through all of Auburn High School's orientation papers, one form, in particular, caught her eye.
"Don't want to sell anything, bake anything, buy anything or generally avoid fundraising of any kind? We feel the same way!!" the form, titled the "opt out" fundraiser, read.
NORTH CAROLINA MOM IN 'DISBELIEF' AFTER SON, 10, PUNISHED FOR CALLING TEACHER 'MA'AM'
The letter explained to parents they can avoid participating in typical fundraisers by simply making a donation that will directly benefit the high school. Parents could give as much money as they wanted, though the school recommended at least a $15 donation.
Woods called the honest note a "breath of fresh air."
"My very first thought was, 'Someone finally gets it. Sign me up!' I was ecstatic to see this idea presented in such a humorous way," Woods wrote on the popular blogging site Love What Matters.
The mom, who works as a part-time nurse between juggling the busy schedules of an eighth-grader and high school sophomore, admitted she often skipped fundraising events anyway and cut a check instead.
TENNESSEE MOM'S SCHOOL DROP-OFF PARODY VIDEO GOES VIRAL
"Whether you are a stay at home parent or work full time outside the home, life is full. The days are full. And I don't want to spend any of my precious spare moments selling candles or tubs of cookie dough to people who don't really want to buy that stuff anyway," Woods explained. "I want 100% of my efforts to go directly to my kids' schools."
Auburn High School Parent Teacher Organization president Emmy Sorrells confirmed to Opelika Auburn News the hilarious fundraising option is real.
"[I] was looking for a way to do a no-pressure, totally tongue-in-cheek and humorous way to get more financial involvement" in the organization, Sorrells told the newspaper.
"I'm not one to post a ton of things on social media but this most definitely made the cut."
Her efforts clearly paid off. The letter she drafted, which prompts parents or guardians to make a $15, $25 or $50 or more donation, went viral after Woods posted about it on Facebook. As of August 7, the image has been shared more than 35,000 times and received hundreds of responses.
"Perfect solution," one Facebook user commented.
"I would pay the $50 and feel like I got away cheap," another added.
"All schools need one of these," one woman agreed.
While everyone may not agree with the PTO's approach, Woods said she thought it was a great option for busy families.
"I'm not one to post a ton of things on social media but this most definitely made the cut," she added.