30 lb cat adopted by Iraq war veteran as therapy pet dies weeks later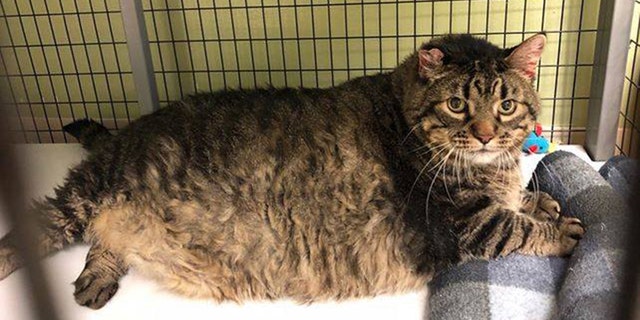 A 30-pound cat named Meatloaf passed away from liver failure only 19 days after being adopted by Iraq war veteran, Steve Gusman, as a therapy pet to help his post-traumatic stress disorder (PTSD).
Iowa-based Gusman first learned about 11-year-old Meatloaf when The King's Harvest Pet Shelter in Davenport posted a picture of the chubby feline on Facebook that went viral.
DOMESTIC CATS REPORTEDLY FACING POTENTIAL BAN IN NEW ZEALAND TOWN
Gusman and fiancée Mary Armstrong of Moline saw the viral post and felt the fat cat would be a good fit as a therapy pet for Gusman's PTSD.
"They were going to heal each other," Rochelle Dougall, assistant director of King's Harvest Pet Shelter said, Daily Mail reports.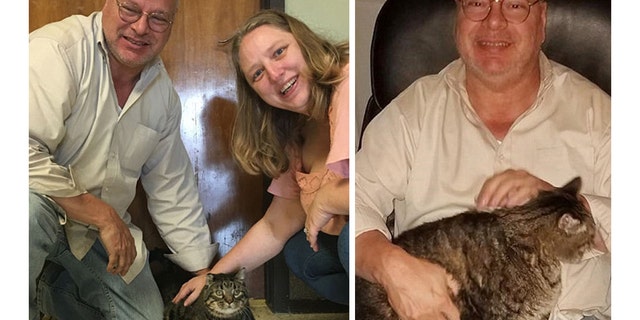 However, the couple knew adopting a bigger cat meant Meatloaf had some health problems such as jaundice and liver issues from being overfed.
At first Meatloaf got along well, Armstrong told KWQC.
ARMY SOLDIER RETURNING HOME SURPRISES DOG WITH 'WHAT THE FLUFF CHALLENGE' IN ADORABLE VIDEO
"He is doing very well, enjoying the attention and going up and down stairs himself and chasing toys," Armstrong said a few days after they brought Meatloaf home.
Unfortunately, only 19 days after Meatloaf was taken in, the cat began "acting funny" and appeared jaundiced. Last Saturday, Gusman and Armstrong rushed the tabby to the hospital, where he died.
"It was liver disease from the human food he ate before being adopted," Armstrong said to KWQC.
"It took him 10 years to get Meatloaf after our first cat, Tiger, passed."
The shelter reportedly sent the pair a condolence card and told Gusman he could return and adopt another cat for free when he's ready.
FOLLOW US ON FACEBOOK FOR MORE FOX LIFESTYLE NEWS
"Steve is taking this very hard," Armstrong said to KWQC. "It took him 10 years to get Meatloaf after our first cat, Tiger, passed."
Despite the short time, Armstrong – and Dougall – are happy Meatloaf was part of a loving family for his final days.
"I'm just really glad he got to have his last days in a loving home. We were there for him as much as he was for us. Hard to walk into our house and not have him greet us at the door," she said to KWQC.