Venezuela medical shortages put Zika-linked Guillain-Barre cases at risk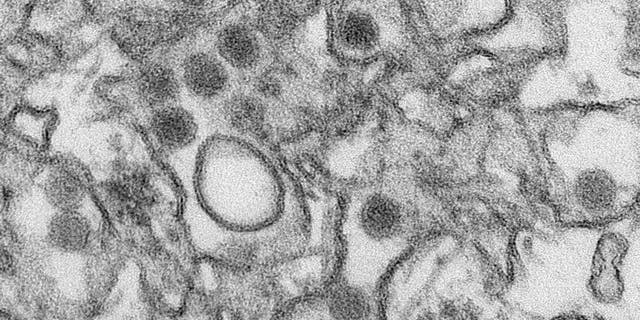 NEWYou can now listen to Fox News articles!
CARACAS – Construction worker Roberto Miguez has been lying in a hospital bed with Guillain-Barre syndrome in Venezuela's muggy Anzoategui state since Friday as his family desperately hunts for immunoglobulin to treat the condition.
Guillain-Barre, a rare disorder in which a person's immune system attacks nerve cells, has been linked with the mosquito-borne Zika virus spreading through the Americas.
Shortly after exhibiting signs of Zika infection three weeks ago, a tingling feeling spread from Miguez' feet up to his legs, hands and tongue and ultimately left his face paralyzed, according to his sister Laura.
To recover, Miguez, 32, needs intravenous immunoglobulin therapy - but severe medical shortages in crisis-hit Venezuela are impeding that, she said from a state hospital in the city of El Tigre.
"Authorities say it's on its way, that we should wait, but nothing has arrived. This is urgent," added Laura Miguez, whose family has written e-mails, made calls and logged urgent pleas on social media.
Authorities said last week there are around 255 cases of Guillain-Barr in Venezuela potentially linked to Zika.
Some 22 other people suffering the syndrome in Caracas are unable to find immunoglobulin, according to Jose Manuel Olivares, a radiation oncologist and opposition lawmaker.
Amid a punishing economic crisis, Venezuela is suffering a roughly 80 percent shortage of medicines, according to a leading pharmaceutical association. The scarcity, which also includes repellent and fever relievers, is stoking fears about Venezuela's ability to respond to the Zika outbreak.
"Prompt and immediate treatment is critical," said Carlo Tornatore, Professor of Neurology at Georgetown University School of Medicine, about Guillain-Barre.
"Delaying treatment can result in profound neurologic damage including paralysis of the face, arms and legs, loss of sensation in the extremities and respiratory failure requiring intubation and admission to an intensive care unit for a prolonged period (weeks to months)."
State-run pharmaceutical company Quimbiotec, the only local maker of immunoglobulin, has not produced it since August, reportedly in part due to lack of materials. It said recently that operations will start up again soon.
A company spokesperson said requests for comments had to go through the government. A spokesperson at the health ministry was not available for comment.
Authorities said last week there are around 4,700 cases of suspected Zika, which has also been linked to birth defects in thousands of babies in Brazil. Venezuelan Health Minister Luisana Melo said on Wednesday there may actually be as many as 20,000 as most cases show no symptoms.
Doctors accuse Nicolas Maduro's leftist government of drastically underestimating the figures, and say cases likely range between 240,000 and 500,000.