Touchdown-scoring snacks for football Sunday
After a long hiatus, football season is finally back. Football season is commonly known for fattening snacks and deep-fried appetizers, but it's time to come up with a different game-day plan. I have a bunch of simple recipes that are both guilt-free and tasty. Every NFL fan will declare them a victory!
Here are some of my favorite game-day snacks that your taste buds will love... but won't ruin your waistline this Sunday:
1. First half: Ate-layer tuna dip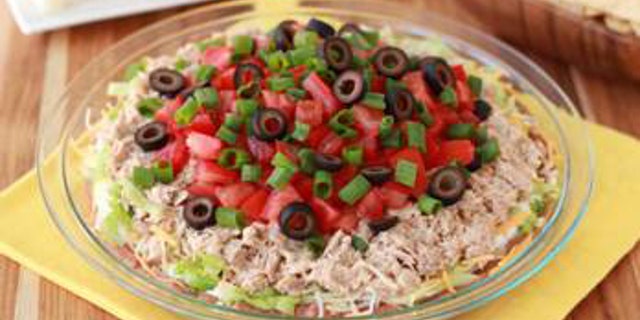 It's not a football party without an eight-layer dip, and this one rocks. Tuna is the MVP of my dish with its Omega-3's and lean protein and the Greek yogurt is a healthy substitute player for sour cream. Now, you can dip freely all the way toward the end zone. Enjoy!
1/8th of recipe (about 1/2 cup): 143 calories, 3g fat, 528mg sodium, 13g carbs, 3g fiber, 2g sugars, 15.5 protein
Prep: 20 minutes
Cook: 0 minutes
Ingredients:
4 (2.6 oz.) Pouches – StarKist Tuna Creations® Ranch, flaked
1 (16 oz.) can fat-free refried beans
1⁄4 tsp. chili powder
1⁄4 tsp. ground cumin
1⁄4 tsp. onion powder
1⁄4 tsp. garlic powder
1 cup fat-free plain Greek yogurt
2⁄3 cup shredded reduced-fat Mexican-blend cheese
1 cup shredded lettuce
1 cup chopped tomatoes
1⁄4 cup chopped scallions
2 Tbsp. sliced black olives
Serving suggestions: cut veggies, baked tortilla chips
Directions:
In a medium bowl, combine refried beans, chili powder, cumin, onion powder and garlic powder. Mix well.
Spread seasoned beans into a deep flat-bottomed serving dish, and layer evenly with remaining ingredients. Serve cold or at room temperature!
HG Tip! Don't have a deep flat-bottomed serving dish? Use an 8-inch by 8- inch baking pan or a 9-inch pie pan!
MAKES 8 SERVINGS
2. Halftime: Jalapeño swappers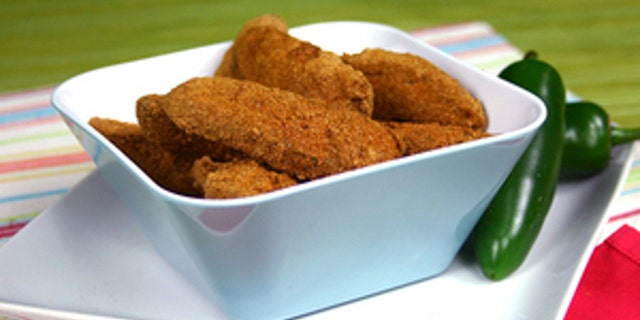 Hot and spicy? Check! Fried? Think again. My jalapeño poppers are baked in the oven to avoid heavy grease and oil, saving hundreds of fatty calories. Additionally, this recipe swaps bran cereal for breadcrumbs and has a guilt-free cheesy center! Now you can enjoy a classic appetizer without feeling like you've been sacked.
1/5th of recipe (2 poppers): 50 calories, 0.5g fat, 170mg sodium, 8.5g carbs, 3g fiber, 1.5g sugars, 5.5g protein
Prep: 30 minutes
Cook: 30 minutes
Ingredients:
½ cup Fiber One Original bran cereal
Dash each salt and black pepper, or more to taste
Dash garlic powder, or more to taste
1⁄4 cup fat-free cream cheese, room temperature
1⁄4 cup shredded fat-free cheddar cheese
5 jalapeño peppers, halved lengthwise, seeds and stems removed
1⁄4 cup fat-free liquid egg substitute
Directions:
Preheat oven to 350 degrees. Spray a baking sheet with nonstick spray.
In a blender or food processor, grind cereal into crumbs. Transfer to a wide bowl and mix in seasonings.
In a small bowl, thoroughly mix cream cheese with shredded cheddar cheese. Evenly spoon and spread mixture into pepper halves.
Place egg substitute in another wide bowl. One at a time, coat pepper halves with egg substitute, shake to remove excess, and coat with crumbs. Evenly place on the baking sheet, stuffed sides up.
Bake until outside is crispy and pepper halves have softened, 25 to 30 minutes.
MAKES 5 SERVINGS
3. Second half: BLT wonton crunchies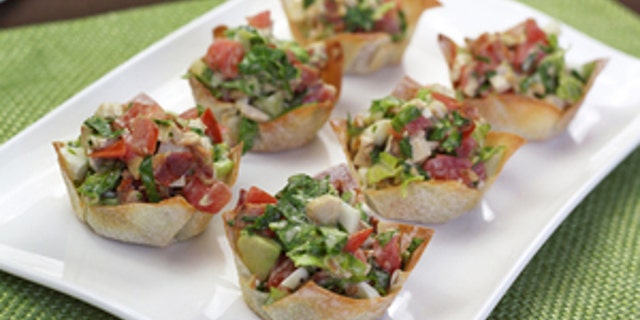 Give me a B! Give me an L! Give me a T! These bite-sized snacks are a whole new spin on a classic BLT. Dressed with fat-free mayo and Dijon mustard, my single-serving crunchies have a tangy twist that bacon fans will love.
1/6th of recipe (2 wonton crunchies): 93 calories, 3g fat, 435mg sodium, 12g carbs, 1g fiber, 2g sugars, 3.5g protein.
Prep: 15 minutes
Cook: 20 minutes
Ingredients:
6 slices center-cut bacon or turkey bacon
12 small square wonton wrappers
1/4 cup fat-free mayonnaise
3 tbsp. Hellmann's/Best Foods Dijonnaise
Dash garlic powder
Dash each salt and black pepper
1 cup seeded and chopped plum tomatoes
2 cups finely chopped lettuce
Directions:
Preheat oven to 350 degrees. Spray a 12-cup muffin pan with nonstick spray.
Cook bacon until crispy, either in a skillet over medium heat or on a microwave-safe plate in the microwave. (See package for cook time.)
Place each wonton wrapper in a cup of the muffin pan, and press it into the bottom and sides. Lightly spray with nonstick spray. Bake until lightly browned, about 8 minutes.
Finely chop bacon. In a large bowl, mix mayo, Dijonnaise, garlic powder, salt, and pepper. Stir in tomatoes, lettuce, and bacon.
Once cool, transfer wonton shells to a large plate. Evenly distribute BLT mixture among the shells, about 3 tbsp. each. Enjoy!
MAKES 6 SERVINGS
4. Overtime: Sriracha Mini Meatballs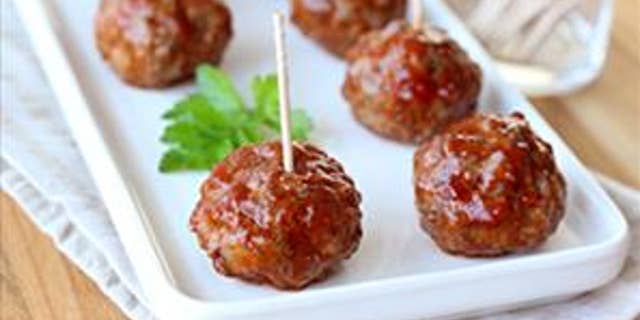 My Sriracha meatballs are just what you need to fuel your at-home cheering section. These protein-packed superstars will fill you up, and that Sriracha kick is more impressive than any game-winning field goal!
1/8th of recipe (3 meatballs in sauce): 115 calories, 2.5g fat, 350mg sodium, 9g carbs, <0.5g fiber, 6.5g sugars, 12g protein.
Prep: 15 minutes
Cook: 15 minutes
Ingredients:
For the Meatballs:
1 lb. extra-lean ground beef (4% fat or less), or HG alternative
½ cup finely chopped onion
2 tbsp. egg whites or fat-free liquid egg substitute
¼ tsp. garlic powder
¼ tsp. onion powder
For the Sauce:
½ cup reduced-sugar grape jelly
1/3 cup Sriracha sauce
Directions:
Preheat oven to 350 degrees. Spray a baking sheet with nonstick spray.
In a large bowl, thoroughly mix meatball ingredients. Firmly and evenly form into 24 meatballs, and place them on the baking sheet, evenly spaced.
Bake for 10 minutes.
Meanwhile, clean the large bowl. Add sauce ingredients, and stir until uniform.
Gently flip meatballs. Bake until cooked through, about 5 minutes.
Add meatballs to the large bowl, and gently toss to coat.
HG Alternative: If made with lean ground turkey (7 percent fat or less) instead of extra-lean ground beef, each serving will have 123 calories, 4g fat, 360mg sodium, and 11.5g protein
MAKES 8 SERVINGS