Plane crashes offer hospitals opportunities, pitfalls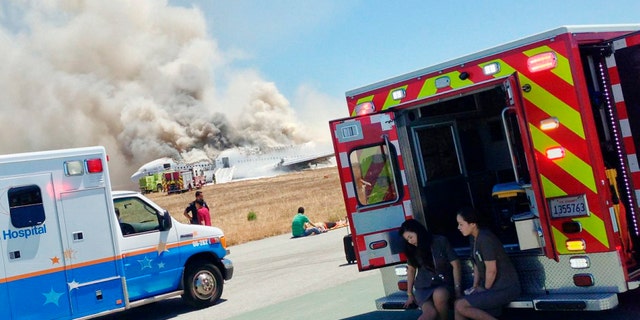 NEWYou can now listen to Fox News articles!
For Bay Area hospitals, responding to the crash landing of Asiana Flight 214 could have a legacy that lasts well beyond the days they treated victims: raising their profile in the community, perhaps leading to more people thinking of their hospital when they need care.
Bay Area hospitals took in more than 180 injured passengers after the plane came in too low to the airport on July 6, hitting a sea wall and losing its tail and landing gear as it skidded down the runway. The bulk of patients went to San Francisco General Hospital and Stanford Hospital & Clinics.
Hospitals say, however, they will stop short of using the flight as a fundraising opportunity, as cash-grabbing pitches tied directly to the crash might offend potential donors.
"We do not, would not, haven't changed our fundraising approach or strategy as a result of the plane crash or any other event like that," says Kevin Causey, president of the foundation tied to St. Francis Hospital, which treated seven crash victims. "I'm reminded of how in poor taste that would be."
Still, he says, the hospital might benefit anyway. "If somebody's watching the news and sees a steady stream of ambulances going to their neighborhood hospital, they might be inspired to donate," he says.
Hospitals often gain from high-visibility disaster, says Gerard Anderson, director at the Center for Hospital Finance and Management at the Johns Hopkins Bloomberg School of Public Health. "It demonstrates that they have capacity to handle disasters," he says. That capacity is highly valued by the community but is costly to maintain.
However, little data exists that ties donations directly to disaster response. "It's not the right judgment to say, 'This happened, and there was an increase in donations,'" says Kathy Zichy, a vice president of public health at New York University's development office.
During the September 11, 2001, terrorist attacks in New York, she worked in corporate development for Downtown Hospital, the closest to the site of the attacks. While the hospital saw an uptick in donations afterwards, there is no way to know how much was tied directly to the tragedy, she says.
In the case of the Asiana plane, Bay Area hospital staffers have plenty of out-of-the ordinary stories to tell.
At St. Francis, which took in five patients on the day of the crash, director of emergency nursing Theresa Edison cut through a clogged freeway from her home near the airport to the hospital in downtown San Francisco by driving directly behind a sirens-blaring ambulance that was ferrying a crash victim.
Dr. Victor Prieto, an orthopedic surgeon at St. Francis, treated one passenger who needed surgery to repair her femur, broken into five pieces. After the procedure, he recalls, as nurses rolled her off the operating table, he noticed small pieces of wood and debris from the crash site still clinging to her back.
Some of the hospitals had to set up clearing areas where federal officials could work. SF General, for example, turned a room off the cafeteria over to federal officials who processed entry to the U.S. for passengers as the hospital discharged them, said John Brown, an attending physician in the emergency room. Many had lost their passports and identification.
Crash patients discharged at Stanford Medical received an offer of vouchers for taxi fare to their next destination, said Brandon Bond, director of the office of emergency management at the hospital. Every child admitted due to the crash got his or her own iPad for the duration of their stay, to help them "reconnect," he added. The hospital treated 55 crash victims.
Ruben Vallero, 69, who had been returning from a holiday in the Philippines on the Asiana plane, says he was impressed with the care he and his wife got at Stanford, where they were treated for injuries to their ribs and necks. He was there for two days; his wife, for four.
When he left, he says, staff gave him a souvenir: his own Stanford Medical tote bag.