Pittsburgh hospital looks for mold source after 3 deaths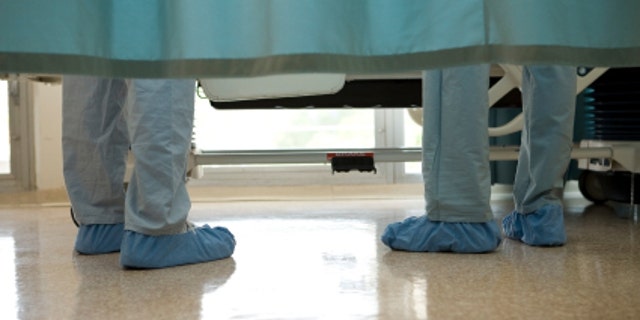 NEWYou can now listen to Fox News articles!
A Pittsburgh hospital is working to find and eradicate the source of a rare mold that may have contributed to the deaths of three transplant patients and left a fourth person in "guarded condition," a hospital spokeswoman said on Monday.
Concern over mold at the University of Pittsburgh Medical Center Presbyterian flared in early September when mold was discovered in the cardiothoracic intensive care unit, forcing the hospital to move 18 patients.
On Thursday, mold-borne illness was discovered in a liver transplant patient who died at UPMC Montefiore, a second campus of the hospital with no connection to the cardiothoracic unit, the hospital's website said.
The two patients who previously died stayed in the same hospital room in the cardiothoracic unit of UPMC Presbyterian at different times. The patient in guarded condition was also in that unit.
"As a precaution, we are putting all transplant patients in UPMC Presbyterian-Montefiore on a new anti-fungal medication even though there is no sign of infection in any of these patients," Dr. Steven Shapiro, the hospital's chief medical and scientific officer, wrote in a blog post.
The hospital performs hundreds of transplants a year.
The mold, commonly found on decaying plants, poses little risk to most people but can occasionally cause fungal infections in transplant patients with compromised immune systems, Shapiro wrote.
Lawrence Muscarella, a consultant on hospital safety, said mold outbreaks like the one UMPC may be experiencing were not uncommon, but he questioned the urgency with which the hospital addressed the situation.
A mold-borne infection was discovered in a dead patient as early as October 2014, according to the hospital, but it was only recently linked to the current outbreak of infections.
"It appears as if it could have been addressed faster," said Muscarella, who provides outside expertise to hospitals looking to eradicate health hazards.
Muscarella said the mold could have infiltrated the hospital through the air or through outside contractors.
A hospital official said it addressed the situation as soon as it became apparent and was monitoring air quality.
"Given the very complicated nature of these patients' illnesses and the sporadic and very limited scope of these infections, we marvel at the care and detective work that found this pattern at all," Tami Minnier, its chief quality officer, wrote in a blog post.
To control the problem, the hospital has deployed disinfecting robots that use ultra-violet light to eliminate germs.
It is working with the U.S. Centers for Disease Control and Prevention, county and state health departments, as well as private experts and mold remediation specialists, according to its website.