Newborn taken from mom over tea she drank while pregnant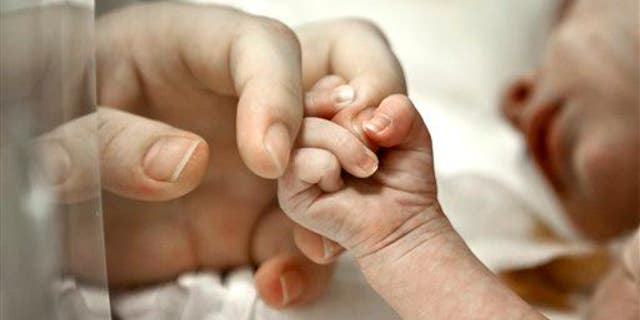 Ohio voters failed to legalize medical marijuana Tuesday—a law that could have prevented what's now happening to Hollie Sanford and her family. The Cleveland mom tried to alleviate extreme morning sickness and sciatic nerve pain during her pregnancy by drinking marijuana tea, a substance she tells Fox 8 she thoroughly researched and determined was safer than other alternatives.
"THC, the psychoactive element, doesn't reach the baby after it's metabolized through my body," she says. "So it's not like the baby is stoned." But when her daughter, Nova, was born "very healthy" on Sept. 26, per court records, the infant was given a drug test—a test the Sanfords' lawyer says was taken without the parents' consent.
The baby tested positive for a non-psychoactive byproduct of marijuana and was ordered removed from her family by a Juvenile Court magistrate, who said there was "immediate or threatened physical or emotional harm," the Plain Dealer reports.
Who's on Sanford's side: the county child services department, which says it only asked for "protective supervision" and that taking Nova "would only serve to disrupt the bond the child would develop with her parents," per a motion filed by an assistant county prosecuting attorney.
The department also notes that it often battles Eleanore Hilow, the judge who threw the gavel down, for "rulings disregarding the agency's professional opinion and the opinions of other professionals in the courtroom," per the Plain Dealer.
Sanford's lawyer agrees, calling Hilow "ill tempered" and with a rep for "punitive decisions." In the meantime, Sanford hopes her baby will be back home soon.
"If people want to say I'm a terrible parent, that's their right," Sanford tells the paper. "I know in my heart that I'm an excellent mother." Nova is now with a family member, who was allowed to take the baby in so she wouldn't have to go to foster care; a hearing is set for December, per Fox 8.
(A breastfeeding mom refused to stop smoking pot.)
This article originally appeared on Newser: Infant Taken From Mom Who Drank Pot Tea While Pregnant
More From Newser