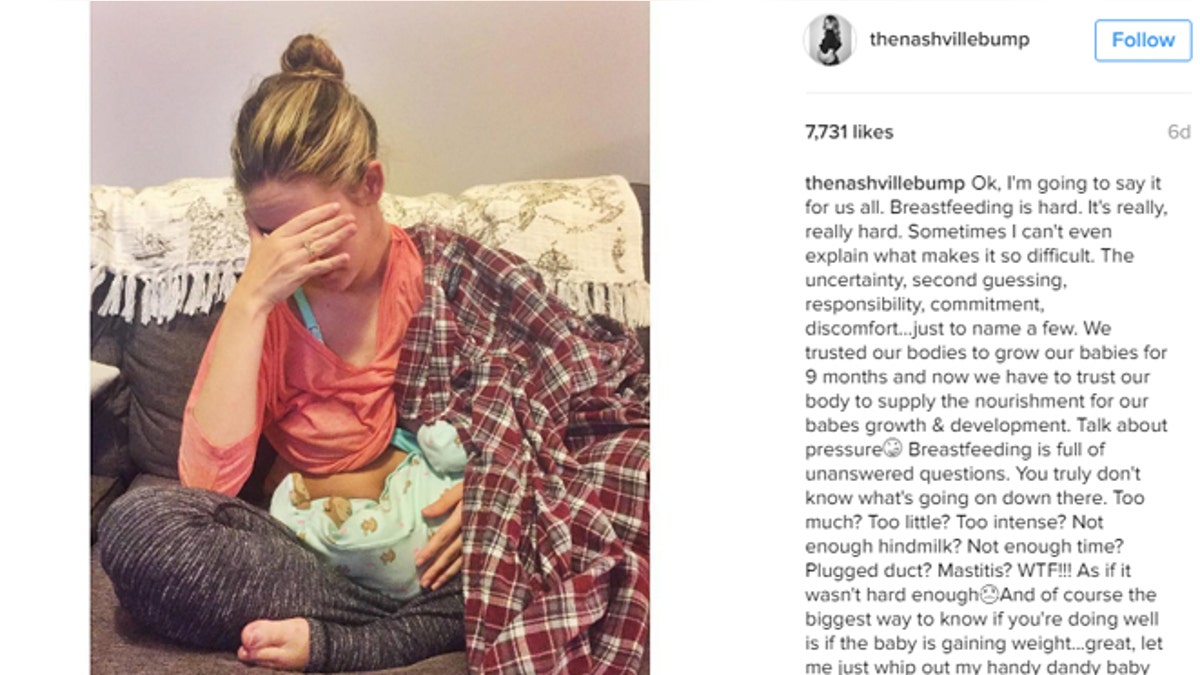 A Nashville mother is receiving kudos from parents around the web for her post on the struggles and uncertainty that can accompany breast-feeding a newborn. Leah Kingsbury, a fitness instructor who posts under the Instragram name @TheNashvilleBump, has received more than 7,700 likes on her post about feeding her newborn daughter, Penelope.
"OK, I'm going to say it for us all," Kingsbury posted on Jan. 25. "Breastfeeding [sic] is hard. It's really, really hard. Sometimes I can't even explain what makes it so difficult. The uncertainty, second guessing, responsibility, commitment, discomfort… just to name a few."
Since her daughter's Dec. 10 birth, Kingsbury has posted a series of relatable photos for first-time parents and families with newborns, often gaining hundreds of comments.
"We trusted our bodies to grow our babies for 9 months and now we have to trust our body to supply the nourishment for our babes [sic] growth & development," she posted in part, alongside a photo of her breast-feeding Penelope. "Breastfeeding [sic] is full of unanswered questions. You truly don't know what's going on down there."
"Mamas [sic] really do need all the support they can get," she posted. "So mama [sic], you're hearing it from me, you're not going crazy, it is hard, but you're doing good. Keep going!!"
In addition to sharing snaps of her newborn, Kingsbury posts exercise programs and products to her 12,000 followers. Many of the nearly 700 commenters thanked her for sharing her breast-feeding experience with others.