Making the Grade: Breakfast Is the Key to Comprehension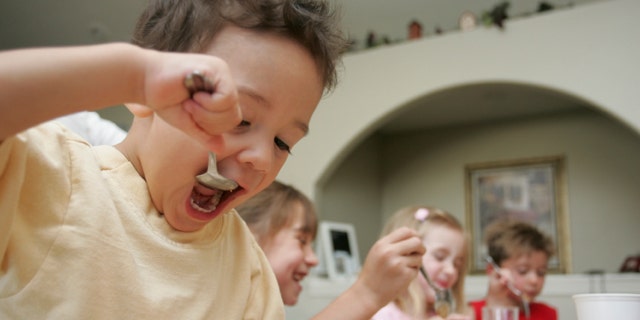 For today's busy parents, returning to school means working a little harder to make sure the kids have nutritious meals throughout the day.
Having a healthy breakfast can give your child an early morning boost that will help them focus throughout the day. Research has confirmed children who eat a good morning meal are more likely to perform better in school.
According to the American Dietetic Association, children who eat a healthy breakfast are more likely to:
• Meet daily nutrient requirements
• Concentrate better
• Have better problem-solving skills
• Have better hand-eye coordination
• Be more alert
• Be more creative
• Miss fewer days of school
• Be more physically active
Your child's palate develops early and his relationship with food is influenced by your relationship with food. If you eat in a rush or standing up, then your child will do the same. If you skip meals, then so will your child. If you always have seconds, your child will too. If your pantry is stocked with junk food, your kids will prefer junk food.
On the other hand, if you make a point of introducing your children to nutritious, whole foods while they are still in a high chair and they acquire a taste for those foods, then they are likely to choose and enjoy those same healthy foods when they are away from home. Make no mistake…when you purchase and prepare healthy food, you are also teaching a behavior. And learning to eat healthy may be the most important lesson your child can ever learn.
We know children need balanced meals that include a combination of fiber, protein, and calcium. No matter how rushed the mornings might be, try to make the most important – and usually the most rushed – meal of the day into an opportunity to model healthy eating habits.
Here are a few healthy breakfast ideas that you can realistically prepare before school even on the most hectic mornings:
 Super Smoothies – Combine a cup of organic soy milk or coconut milk, organic frozen berries and a banana in blender. Add a little plain organic soy yogurt and a tablespoon of ground flax seed. Energy and antioxidant packed smoothies are ideal breakfast and after-school snacks. Prep time: 4-5 minutes.
 Goji Berry Oatmeal – Prepare organic ready-cut oats in boiling water per instructions. Add a tablespoon of organic maple syrup grade B and top with dried goji berries (or cranberries). Prep time: 4-5 minutes.
 Fruit and Yogurt – Mix your favorite berries with organic plain yogurt and add a bit of ground flax seed, chopped walnuts and agave nectar. Prep time: 3 minutes.
 Protein Packed Pitas – Chop some spinach, diced tomatoes or peppers and put in shaker the night before. Add eggs, scrambled in the morning and cook in cast iron pan. Stuff eggs into a whole grain pita pocket. Prep time: 6-8 minutes.
 Almond Butter Banana Wrap – Organic almond butter spread on whole grain tortilla with banana slices. Can substitute peanut butter. Prep time: 2 minutes.
By planning ahead – doing what you can the night before – and getting everyone up just 10 to 15 minutes earlier, you should be able to prepare and enjoy breakfast with your kids.
Deirdre Imus is the Founder and President of The Deirdre Imus Environmental Health CenterTM at Hackensack University Medical Center and Co-Founder and Co-Director of the Imus Cattle Ranch for Kids with Cancer®. Deirdre is the author of four books, including three national bestsellers. She is a frequent speaker on green living and children's health issues, and is a contributor to FoxNewsHealth.com. For more information go to www.dienviro.com