Injured wrestler inspires team to South Dakota state title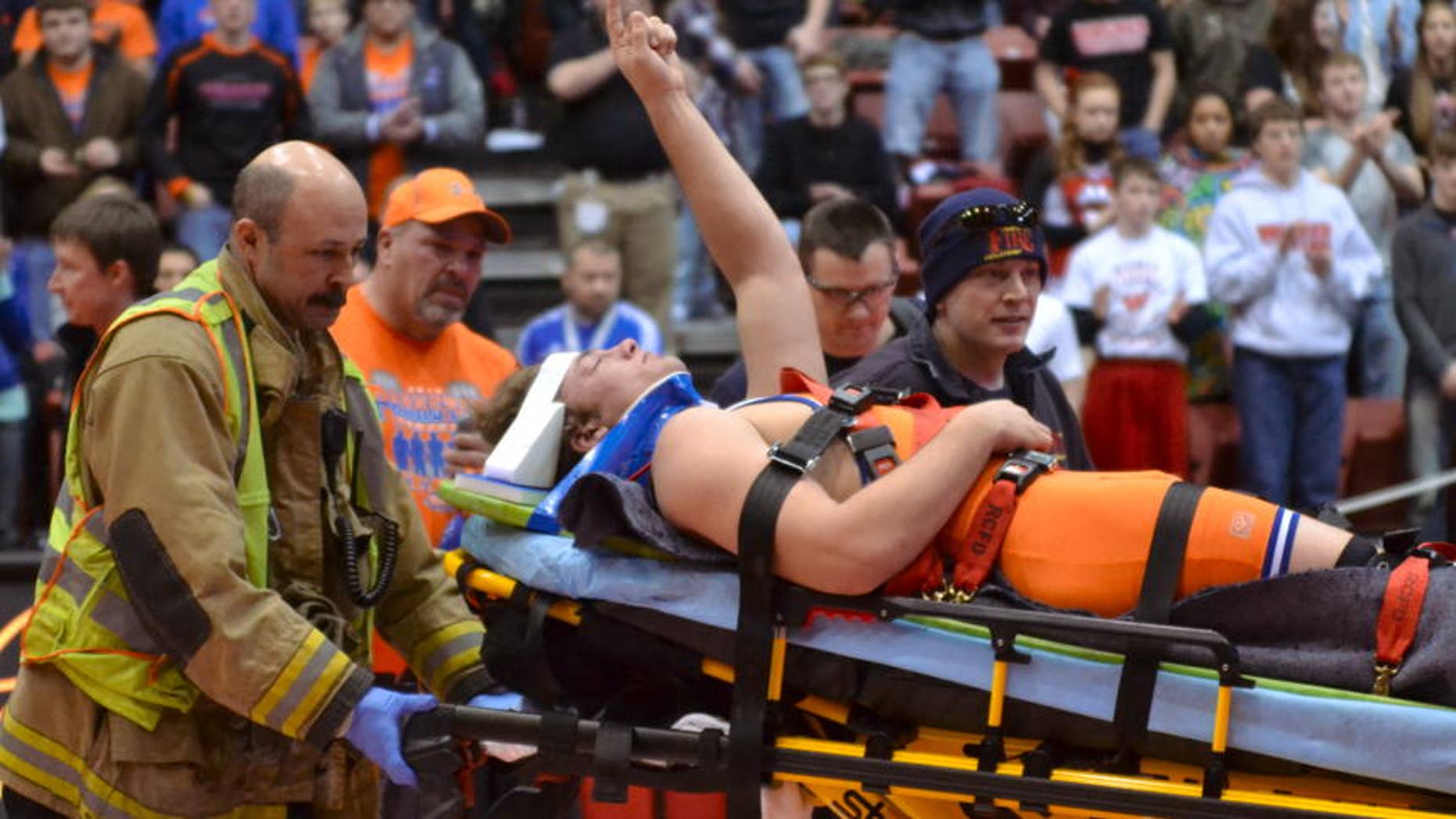 Austin Bertram was terrified that he had lost the use of his legs.
During his 220-pound semifinal at the Class B state wrestling tournament on Saturday, the senior Parkston wrestler was picked up and dropped by Canton's Ryley Ostbye.
Bertram landed hard on the mat, and suffered a significant injury that appeared to be around his neck.
"I was getting scared," Bertram told The Daily Republic (http://bit.ly/18hl3pu ). "My back started hurting pretty bad. I had a tingling and a numbing through my arm and my fingers. To be honest, I had the feeling that I wasn't going to be able to walk again."
After the fall, Bertram remained motionless on the mat, and Rapid City's Rushmore Plaza Civic Center fell quiet. Ostbye came over to check on Bertram, and was immediately overcome with emotion as he screamed, "Oh no."
"That was very scary; your heart just goes out to him at a very emotional time," Parkston first-year head coach James Boehmer said. "Not only him but also Ostbye. It wasn't malicious, it wasn't what he wanted and obviously it wasn't what Austin wanted. Nobody wanted that."
Because of the way Ostbye dropped Bertram, Ostbye was disqualified from the match because of an illegal move, advancing Bertram to the championship round.
But Bertram was put on a stretcher by medical personnel, and received a standing ovation from every fan, coach and wrestler in attendance. He responded to their support with a brief wave and a thumbs-up.
His father, Robert, followed Bertram to the hospital.
"My first reaction was, 'OK, he'll get up,' " Robert Bertram said. "Normally, you can take things for granted as a kid, but looking back on it and how the day progressed, his comments to me were, 'Don't ever think that you're just going to have another chance, because it doesn't always happen.' "
With his hopes of walking slim arriving at the hospital, Austin Bertram suddenly felt a drastic change.
"I got to the hospital, and for some reason, I lost the numbing feeling in my back," he said. "I had all feeling and everything I could possibly get back. I just said, 'Yep, it's because those people back at the stadium were praying for me.' "
Bertram did not expand on the extent of his injury, but said that he's "good, and hopefully everything comes out just great."
Despite the events that happened to Bertram, his Trojans were still battling for their third consecutive state championship. He didn't want his teammates to lose sight of that goal.
"After I went down, they all came up to me," Bertram said. "I just told them 'Guys, go win it. I'll be praying and cheering for you guys from wherever I'm sitting in the hospital.' "
According to Boehmer, Bertram's words inspired Parkston to finish the job.
"Even when he was hurt, he kept telling the boys to keep it going," Boehmer said. "We're happy to see that he's all right, but he's kind of in a tough situation. But the boys saw that and didn't let it faze them; they wanted to keep it going for Austin."
But Bertram didn't have to watch the Trojans win the three-peat from a hospital bed. Doctors cleared him to attend the arena, but wouldn't allow him to compete in the state championship. However, Bertram had one last request.
"I asked if I could put my uniform on and walk out on the mat for the last match of my high school career," Bertram said. "The doctor said, 'Yes, as long as there's no contact.' "
When Bertram -- wearing a large neck brace -- walked on to the mat to forfeit the match because of the injury, he received another standing ovation from the fans in the arena.
While he appreciated the support from the fans and his teammates, Bertram was a little disappointed that he wasn't able to compete for an individual state title, a goal of his since the start of the season.
"It hurt a lot," he said. "Just knowing it was my last match and that (I couldn't) even wrestle my last match was hard. I feel bad for the team that I wasn't able to wrestle (in the finals), but I can only do what I can do being injured. But I'm just happy I'm able to walk."
After the heavyweight title match, it was announced to the arena that Parkston had won the team state title with 151 points.
"I can admit that this was probably one of the worst days ever, and then all of a sudden it turned into one of the best of my life because of my teammates and my hometown crowd," Bertram said.