Infant whose heart was in wrong place saved by transplant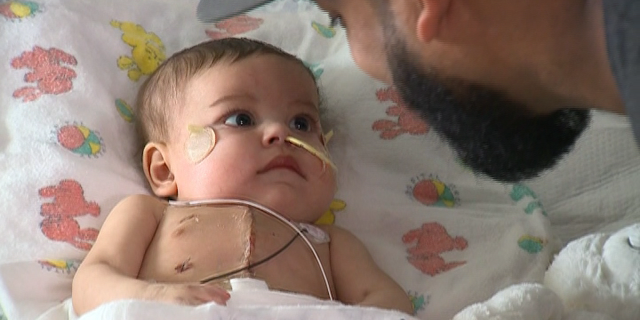 NEWYou can now listen to Fox News articles!
A seven-month old infant is recovering after receiving a heart transplant shortly after suffering cardiac arrest. The boy was born with heterotaxy syndrome, a rare heart condition that caused his organs to develop on the opposite side of his body.
Lincoln Seay, of Anchorage, Alaska, needed multiple surgeries to keep his heart vital, but the organ was starting to fail. Seay was flown to Seattle and waited 89 days before he was prepped for surgery— 4 days after he experienced a cardiac arrest, Medical Daily reported.
The day of his surgery, the boy's heart stopped a second time, leading to cardiac arrest. Doctors put him on a heart bypass machine they'd intended to use during the transplant.
"The remarkable thing was we were able to get him on machine quickly," Dr. Michael McMullen, surgical director of heart transplantation at Seattle Children's and Seay's personal surgeon, told ABC News. "It can take two hours and we did it in 12 minutes and doing CPR."
Lincoln's surgery had immediate results.
"His color is incredibly different, it's pink and vibrant and he woke up with so much energy," Lincoln's mother Mindy Seay told ABC News. "We joked, 'He woke up thinking he was the Hulk.'"
The boy's heart was given by an anonymous donor family and Seay expressed her gratitude in an open letter.
"I will treasure that heart more than I've ever treasured any gift," she wrote in a blog post, according to The Seattle Times. "I will care for that gift to the very best of my ability and will be sure we always give reverence and respect to the child and the family from which it came."