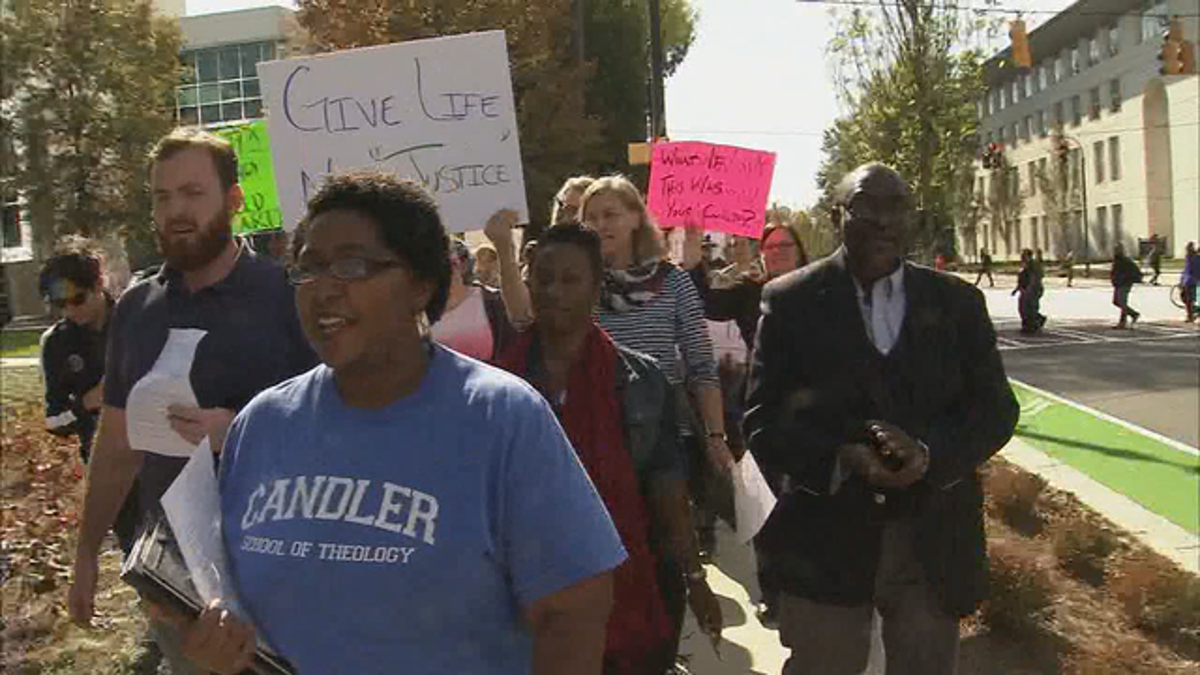 Hospital officials met with the relatives of a toddler in need of a kidney on Thursday, after protesters called for action on a decision to delay the child's transplant until January over his father's criminal record. A second meeting is expected to take place on Monday, after Emory Healthcare released a statement acknowledging a breakdown in communications between the two parties.
"We're anticipating a very important meeting to occur on Monday to get this process back on track," Mawuli Davis, the attorney for A.J. Burgess' family, told Fox 5 Atlanta. "What we hope we are able to reestablish on Monday is trust."
A.J. made headlines earlier this month when it was reported that the toddler couldn't receive a kidney from his father, Anthony Dickerson, 26, over a probation violation in September. The hospital reportedly worked on behalf of Dickerson, who was jailed at the time, to request he be escorted to the hospital for blood work and pre-operative testing.
DISTRAUGHT WOMEN TELL COURT HOW ILLEGAL FAKE BOTOX LEFT THEM DISFIGURED, LOOKING 'LIKE A HAMSTER'
Days after testing, the family said they received a letter from the hospital saying the surgery would be delayed until Dickerson complied with his parole officer after three months. A petition to reverse the decision created by the boy's mother, Carmellia Burgess, has gained over 58,000 signatures.
On Sunday, A.J. was rushed to the hospital for an abdominal infection. Protesters gathered to express their anger over the hospital's decision, which culminated in the initial meeting between A.J.'s relatives and hospital officials.
"We are as committed to making sure we are back in these streets, back in the streets picketing, protesting, doing whatever we need to do," Derrick Boazman, a community activist, told Fox 5 Atlanta.
NURSE DELIVERS OWN BABY OUTSIDE HOSPITAL SHE WORKS IN
Burgess told the news outlet that A.J.'s health had improved since being admitted, and thanked the community for their support. In a statement on Thursday, Emory released a statement on the ongoing situation.
"We have had an open and honest discussion in focusing on our shared goal of ensuring the health and well-being of A.J. and his father," Emory Healthcare said the statement, according to Fox 5 Atlanta. "In reviewing our communication with the family, Emory Healthcare wants to acknowledge and apologize for a breakdown in communication on our part. In addition, the Emory Health care team and the family agreed to meet again on Monday, Nov. 6, to continue the process. In our meeting this afternoon, we were able to review the situation and agree that moving forward on behalf of A.J. is everyone's most important goal."