Health effects plague communities hard-hit by Sandy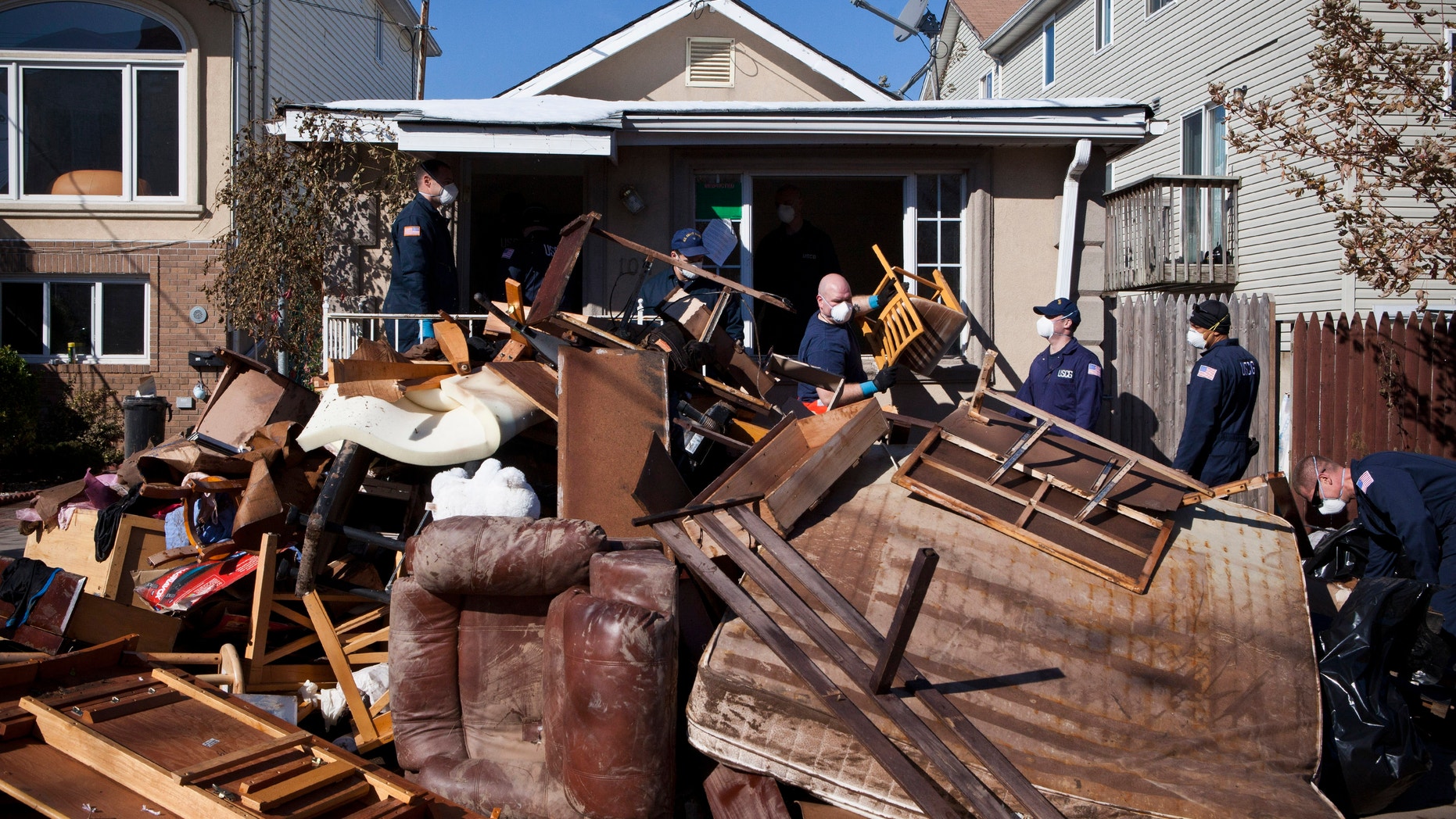 The waterfront neighborhoods of Lindenhurst on Long Island have become a toxic wasteland since Hurricane Sandy hit.
Toxic fumes hang in the air, the ground is covered in mud and oil. Homes are gutted and the streets are barely visible; garbage is strewn about.
Jill Vaneck, who lives on Artic Street, said she has been coughing since the storm hit, and she's had a constant headache.
"Volunteers are getting sick, spitting up black mucous, getting respiratory infections – some just after two to three days. Victims have been exposed much longer."
"I'm concerned over mold, but definitely the oil – it's everywhere, in the streets, in our homes," Vaneck said. "The smell of oil has given me a headache every day, and I have this bad cough. So, yes, I'm concerned. I'm worried about the water . . .not only for the plumbing in my house, but there is water all around us. It's toxic down here."
Over on Staten Island, residents are concerned about hypothermia, frost bite, dysentery and respiratory infections, said Mike Hoffman, 33, a volunteer relief coordinator in the New Dorp area.
"Volunteers are getting sick, spitting up black mucous, getting respiratory infections – some just after two to three days," Hoffman said. "Victims have been exposed much longer."
Hoffman said that Staten Island has once again become the borough with a landfill, noting that residents living among mountains of sewage and mold-infested items marinating the air they breathe.
"They need air quality testing, hot showers, heat and electric," Hoffman added. "Myself and many others are working vigorously to get them most of that but the city needs and must check air quality."
Dr. Manny Alvarez, senior managing health editor of FoxNews.com, said these are real concerns for victims of Hurricane Sandy.
"In imperfect conditions, any fields with this amount of toxicity . . .they would not let anyone live like this," Alvarez said. "The chemicals have seeped into the ground, and they could weaken your immune system."
Diane O'Donnell, a spokeswoman for Staten Island University Hospital, told SILive.com there has been an increase in the number of emergency room patients complaining of respiratory problems in the past week. O'Donnell said there is also an increase in ER visits due to injuries relating to the storm.
SILive emailed the city's Department of Environmental Protection regarding the concerns over air quality, and the agency said it does not think the "extensive refuse poses potential health hazards," according to SILive.com.
"Because debris piles are wet, the outdoor air on Staten Island should remain free of contaminants, including asbestos," said Environmental Protection. "However, out of an abundance of caution, we will monitor for asbestos at debris piles over the next few days."
But are they doing enough? According to SILive.com, the city's health department reiterated those beliefs, but added mold and dust can cause irritation to one's eyes and throat, so residents should take proper precautions when cleaning up.
A Lindenhurst resident named Barbara, who declined to give her last name, said she is also concerned about her pets.
"My dogs walk around the yard, and there is oil all over the place," she said, adding she is worried about the mold growing in her home.
"Is this going to plague us for years to come?" Barbara wondered.
Dr. Clifford Bassett, a New York-based an adult and pediatric allergy specialist, said a musty odor is one of the first signs of mold, and it is a particular problem in homes that have been flooded with more than three feet of water.
Bassett said residents should examine their homes thoroughly to look for water stains and signs of green or black mold spores. Excess moisture and water damage will indicate mold, too.
"Make sure to clean all your counters and surfaces using disinfectants registered with the Environmental Protection Agency," he added. "Throughout the cleaning process, it is essential to wear gloves, boots and goggles for protection. Also consider wearing a N95 face mask, which can be purchased at most hardware stores."